Microsoft and 5 Dow Tech Stocks Making Waves This Week
Microsoft Corporation (NASDAQ:MSFT): Current Price $31.80
The Wall Street Journal reports that Microsoft is examining designs for a "touch-enabled watch device." The report cites executives at suppliers who note that the company has not thus far decided whether to commence output on a wearable computing device. A number of tech giants have been connected to the development of wearable computers, one of 2013′s hot tech topics. Forms said to be looking at moving into the market include Apple (NASDAQ:AAPL), Google (NASDAQ:GOOG), and Samsung. Sony already has a wearable device available now, the Sony (NYSE:SNE) SmartWatch, which connects to an Android smartphone and allows users check messages or screen phone calls.
Vice President Terry Myerson of the Windows Phone division said that its Windows Phone operating system has an opportunity to entice Apple (NASDAQ:AAPL) and Google (NASDAQ:GOOG) users, since it offers a more exciting and smoother experience, according to Bloomberg. Myerson called Apple's iOS software "boring," with icons across the bottom that offer sparse information or flexibility at a conference in New York, adding that Google Android is "a mess," with too many different versions of the operating software in use. Microsoft wants to make inroads with Windows Phone to exploit increasing demand for devices, and had 2.6 percent of the smartphone operating system market in the fourth quarter, says the research firm IDC, up from 1.5 percent year-over-year from 2012. That figure lagged Android's by 70 percent, iOS's 21 percent, and BlackBerry's (NASDAQ:BBRY) 3.2 percent.
On Wednesday, the corporation and Hon Hai, which is the parent of Foxconn, reached a global licensing accord that provides wide coverage under Microsoft's patent portfolio, among which includes tablets, smartphones, and TVs. The contents of the agreement are private, but the two parties are indicating that Microsoft will get royalties from Hon Hai via the arrangement.
The huge smartphone maker ZTE Corp will to pay Microsoft a royalty for devices it makes that use Google's (NASDAQ:GOOG) Android and Chrome operating systems. ZTE is the most recent hardware manufacturer to reach a patent deal with Microsoft, which has successfully contended that Android, which Google provides free to handset makers, uses Microsoft-owned tech as well. Google and its Motorola phone maker division, are the most visible holdouts against a patent accord with Microsoft. Reaching agreement with ZTE implies that Microsoft now has patent deals secured with four of the five leading Android phone makers, according to Reuters.
Microsoft has reported the pricing of its offerings of 550 million euros and $1.950 billion of senior unsecured notes of senior unsecured notes, respectively. The notes are comprised of the following tranches: 550 million euros of 2.625 percent notes due May 2, 2033; $450 million of 1.000 percent notes due May 1, 2018; $1 billion of 2.375 percent notes due May 1, 2023; $500 million of 3.75 percent notes due May 1, 2043. The corporation will use the net proceeds from the offerings for general corporate purposes, which might include, among other things, funding for working capital, capital expenditures, repurchases of capital stock, acquisitions and repayment of existing debt. The offerings should close on May 2, 2013.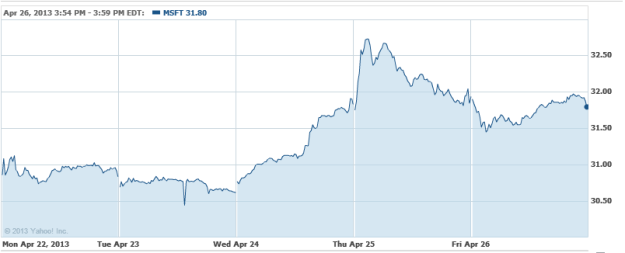 Verizon Wireless (NYSE:VZ): Current Price $53.67
The Wall Street Journal reports that Verizon Wireless will pay as much as $1.5 billion to acquire spectrum leases from Clearwire Corporation (NASDAQ:CLWR). The purchase would give the United States' biggest wireless carrier the right to use airwaves currently controlled by Clearwire in big domestic markets. Beyond that, it further complicates a three-way series of agreements in which Clearwire would divest itself to part owner Sprint Nextel Corporation (NYSE:S), and Sprint agreed to sell a controlling interest in itself to Softbank of Japan. Adding yet another factor, Sprint now has become the subject of a competitive takeover bid from DISH Network Corporation (NASDAQ:DISH).
Verizon's signup page for Samsung's new Galaxy S4, is now live, but there is still no final release date or price for the product. Earlier, Verizon tweeted that the Galaxy S4 would be available in May, but the Verizon sign up page will alert potential customers by email once the Galaxy S4 becomes available. Steve Kovach of  Business Insider says that Verizon is the last of the four top domestic carriers to offer any word on when the Galaxy S4 will be ready for sale.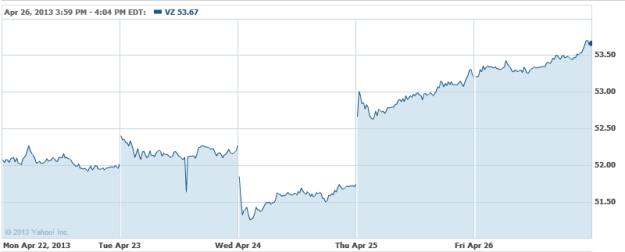 AT&T (NYSE:T): Current Price $37.05
The Galaxy S 4 from Samsung (SSNLF.PK) is now officially up for pre-order on AT&T's website. For the present, only the 16-gigabyte models in both black and white are available, and only in certain areas. The carrier will probably make more models available in the next few days as pre-orders build up. The 16-gigabyte model starts at $199 with a two-year contract, and AT&T says that the phone will ship on April 30. The phone features a Smart Pause feature, which stops playing video when the phone cannot detect that the user is looking at it, and also Air View, which allows the user access extra information by hovering over a picture or email subject.
The New York Times reported Tuesday that the chief of the Justice Department's antitrust arm supports the imposition of limits upon the total amount of airwaves that a single wireless firm can own. Should a constraint such as that be implemented, AT&T might be disallowed from bidding on certain airwaves at auction.
The telecommunications giant was recently recognized by the Hispanic Association on Corporate Responsibility in its 2012 Corporate Inclusion Index survey, in which AT&T topped the list of 55 participating Fortune 100 companies and HACR corporate members with a 95 rating, which was the highest received in 2011 and in 2012. This marks the second consecutive year that AT&T got a stellar rating in the areas of workforce, procurement, philanthropy, and governance. In 2012′s HACR CII report, the firm was one of two to obtain a 95 rating score, representing the highest rating for all telecommunication companies.
Gartner named AT&T a 'Leader' in its 2013 Magic Quadrant for Managed Hosting, North America. Since 2004, and then for seven straight report updates, the company has been included as a Leader in the Managed Hosting space. The Gartner report looked at 15 vendors, concentrating on the enterprise-class, managed hosting market, and independent of the type of underlying infrastructure. The evaluation criteria included the ability to execute on service offerings and service excellence; overall business viability and track record; and thoroughness of vision for the future needs of customers.
AT&T has announced a $1 million donation to the One Fund Boston, along with the creation of a toll-free number for One Fund, 855-617-FUND, so that victims can make direct contact and learn how to request support. This number began taking calls at 12 p.m. Eastern Time on Wednesday.  AT&T customers who would like to support One Fund Boston can text BOSTON to 80108 to donate $10, which sum will be charged on their monthly AT&T bill. In the past four days, customer text donations have surpassed $25,000, and represent almost half of all wireless customer text donations to the One Fund.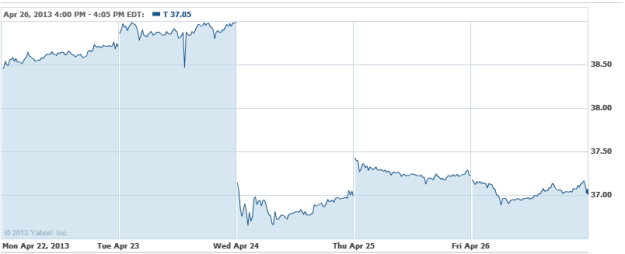 Hewlett-Packard Co. (NYSE:HPQ): Current price $19.99
HP shares took a dive on word that private equity firm The Blackstone Group (NYSE:BX) elected to not to submit a takeover offer for Dell (NASDAQ:DELL), which is its largest competitor. Along with a number of partners, Blackstone had endeavored to form an offer for Dell.
The company has announced that Jupiter Medical Center has deployed an efficient and scalable HP Converged Infrastructure through which to speed up medical application delivery to enhance patient care and to support growth. After studying competitive offerings, including some from EMC and Cisco, Jupiter Medical Center selected an HP Converged Infrastructure for improved reliability, scalability and also ease of management. The new HP Converged Infrastructure includes HP 3PAR StoreServ Storage, which is a simple, scalable and flexible storage infrastructure; the HP BladeSystem enclosure with HP ProLiant Generation 8 (Gen8) server blades for optimized performance and power efficiency; and HP Virtual Connect tech so as  to simplify network management.
The company reported the new HP ExpertOne Accredited Technical Associate, which is information tech for Business certification to assist business students in preparation for a job market in which tech insight is key to achieving business objectives. IDC states that as organizations increasingly depend upon management of large data to meet their customers' needs, marketing and IT must collaborate more closely to attain business goals.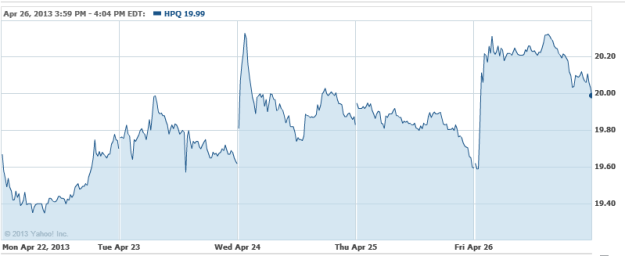 International Business Machines Corporation (NYSE:IBM): Current price $194.53
Disappointing first-quarter results released late on Thursday that missed Wall Street expectations thanks to shortfalls in tech spending, along with other factors, sent shares down Friday. Analyst Brian White at Topeka Capital Markets, in a research note to investors, said that "IBM's disappointing 1Q performance speaks to the weakening of IT spending environment. If IBM is having challenges, we expect more pain across the IT environment in the coming weeks."  Meanwhile, IBM's Chief Financial Officer Mark Loughridge, explained that his company experienced "a shortfall in its software and mainframe business." Beyond that, the firm was unable to close "some large transactions," which it now hopes to close in the current quarter, according to IBD.
IBM has purchased UrbanCode, which is based in Cleveland, Ohio. The firm automates the delivery of software, assisting businesses in rapidly releasing and updating mobile, social, big data, cloud applications. UrbanCode's software is a natural extension of IBM's DevOps strategy, which was formed to simplify and quicken the entire software development and delivery process for businesses.  The new capabilities also complement IBM SmartCloud and IBM MobileFirst initiatives by facilitating clients delivering software through those channels.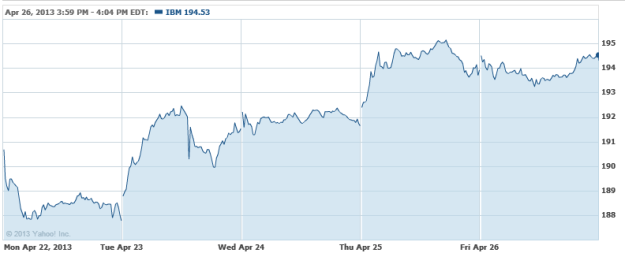 Intel Corporation (NASDAQ:INTC): Current price $23.43
CNET says that the outgoing Chief Executive Paul Otellini concedes that it takes some adjustment to familiarize users with Microsoft's Windows 8, and it faces "an adoption curve," but he also believes that people like touch screens, and forecasts that touch-enabled notebook prices should fall "very rapidly over the next couple of quarters."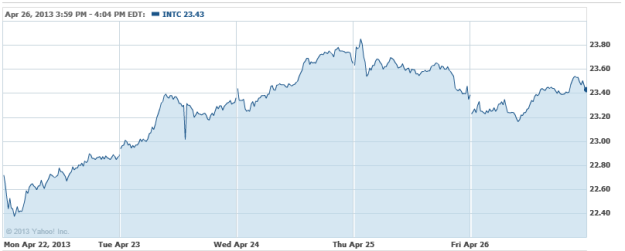 Don't Miss: Bank of America's Earnings Disappoint Once Again.