Microsoft and Google Partner Against Online Child Abuse Material and 2 Other Dow Movers to Watch
Microsoft Corp. (NASDAQ:MSFT): Current price $37.33
Microsoft and Google Inc. (NASDAQ:GOOG) announced in a Monday joint statement that they have launched software that makes it more difficult for users to search for child abuse material online. Google Executive Chairman Eric Schmidt wrote prior to a British summit on Internet safety that his firm has fine-tuned Google Search to clean up results for more than 100,000 search terms. If users type in queries that could be linked with child sexual abuse, they will not receive results that connect with illegal content. The restrictions are being started in the United Kingdom and other English-speaking countries first, and similar modifications are being launched on Microsoft's Bing search engine.

Goldman Sachs Group (NYSE:GS): Current price $166.40
According to a report in the Financial Times citing anonymous sources, Goldman Sachs is said to be getting ready to step up discussions to divest its metals warehousing arm. In October third-quarter earnings reports, neither Goldman nor Morgan Stanley indicated that they intend to let go of their physical commodities units. A source close to the situation said to the Financial Times that several outside parties had expressed interest in Goldman's metals warehousing division, Metro International Trade Services.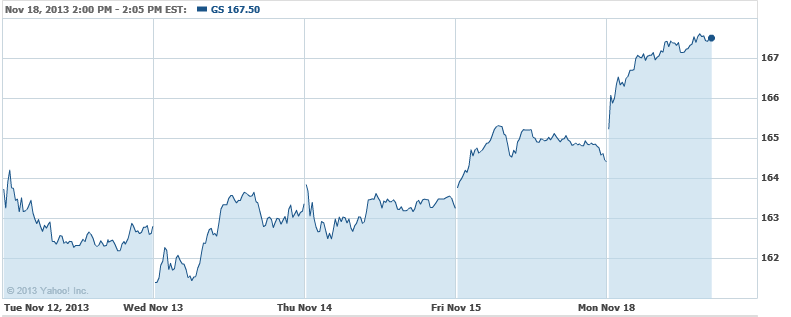 AT&T Inc. (NYSE:T): Current price $35.53
AT&T is introducing AT&T Unite Pro, its 4G LTE mobile hotspot from NETGEAR. Available Friday, customers may link as many as 15 devices, and with enhanced battery life, they should be able to get more work done, according to the company. Whether taking care of business away from home or viewing movies while waiting for their car to be serviced, users may stay connected with AT&T Unite Pro to the mobile Internet.

Don't Miss: Will PlayStation 4 or Xbox One Win? 6 Determining Factors.