Microsoft Asks for EU Nod to Nokia Phones Takeover and 2 Other Dow Movers to Watch
Microsoft Corp. (NASDAQ:MSFT): Current price $35.64
Entering the next phase of its planned acquisition of Nokia's phone division, Microsoft has asked European Union antitrust regulators to okay the $7.49 billion transaction as part of its push into the mobile devices business. The agreement, announced in September, includes a 10-year licensing arrangement of Nokia's patent portfolio. The European Commission replied that it would decide by December 4 whether to clear the purchase, but it may extend the review by 10 working days should Microsoft offer concessions to avert possible competition worries.

Pfizer Inc. (NYSE:PFE): Current price $30.92
Pressures from generic drugs was said to be the cause of Pfizer's third-quarter profit falling by 19 percent while sales slid, and lower operating expenses could not outweigh higher taxes and charges. As with several other drug makers, Pfizer is being severely impacted by cheaper generic versions that cut into the sales of older drugs, which no longer have protection from patents that once helped them rake in billions of dollars every year. One example is the cholesterol fighter Lipitor, which lost patent protection in November 2011, following almost a decade as the number one selling drug in the world. All told, Pfizer said the loss of those patents was costing it between $3 billion and $4 billion annually.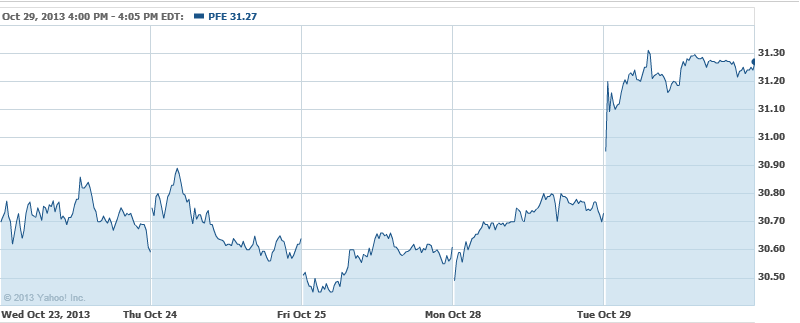 UnitedHealth Group Inc. (NYSE:UNH): Current price $68.31
It was announced Wednesday that UnitedHealthcare Community Plan has expanded its service area to include eight additional New York counties, in which it offers the New York State Medicaid, Family Health Plus and Child Health Plus plans. The eight additional counties include Albany, Chautauqua, Chemung, Columbia, Essex, Genesee, Niagara, and St. Lawrence. The plans are now available in New York City, Long Island, the Hudson Valley, and throughout Central and Western New York.

Don't Miss: Here's Why BlackBerry Lunched with Facebook Last Week.