Microsoft Asks Holder for Freedom to Inform Public on PRISM and 2 Other Dow Movers to Watch
Microsoft General Counsel Brad Smith has written a letter to U.S. Attorney General Eric Holder, urging him to allow the company to more fully describe to the public the extent of federal government surveillance of its customers subsequent to the PRISM revelations. Smith used extraordinarily dramatic tones to plead with Holder to persuade President Obama to be more transparent with the public on how the NSA and other agencies gather and sort data from big tech firms. Smith's letter opens with the following paragraph: "I'm writing to ask you to get involved personally in assessing the Constitutional issues raised by Microsoft and other companies that have repeatedly asked to share publicly more complete information about how we handle national security requests for customer information. In my opinion, these issues are languishing amidst discussions among multiple parts of the Government, the Constitution itself is suffering, and it will take the personal involvement of you or the President to set things right."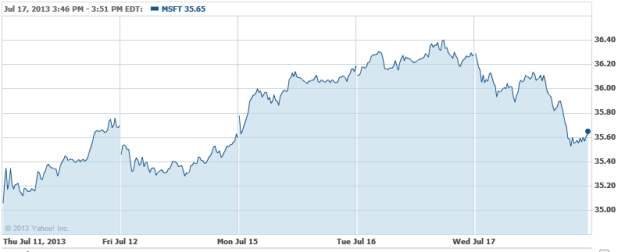 McDonald's Corp. (NYSE:MCD): Current price $99.94
Analyst Mark Kalinowski at Janney downgraded McDonald's Corp. on Wednesday, explaining that he worries investors are overly optimistic about domestic sales trends this summer. Based on his survey of certain U.S. franchisees, Kalinowski said he was lowering estimates for June sales at stores open for at least a year to 1.1 percent growth, down from 2 percent. Beyond that, he cut his July estimate to an increase of 1.5 percent from 2 percent, and his earnings per share estimate for the year by 3 cents, to $5.68. Finally, the analyst downgraded his rating on shares from to Neutral from Buy.

The Coca-Cola Co. (NYSE:KO): Current price $40.96
On Wednesday, Universal Parks & Resorts and The Coca-Cola Company announced a new, ten-year marketing partnership, broadening an ongoing relationship established in 1999. Through the new terms, Coca-Cola keeps its designation as the Official Soft Drink of Universal Studios Hollywood, Universal CityWalk Hollywood, and Universal Orlando Resort (including Universal Studios Florida, Universal's Islands of Adventure, and Universal CityWalk Orlando). The new arrangement also expands the brand to include Official Sports and Energy Drinks and Teas, and designates Minute Maid as Official Juice of the North American parks.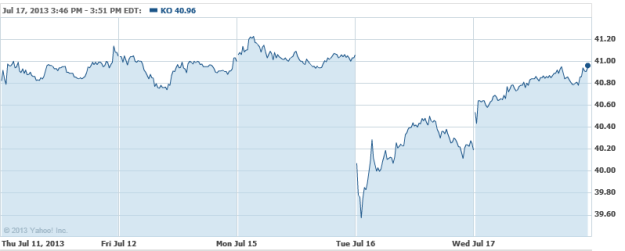 Don't Miss: Microsoft Claims Constitutional Right to Reveal Data.