Microsoft CEO Uncertainty Causes Downgrade, Boeing Soars on Record: Market Recap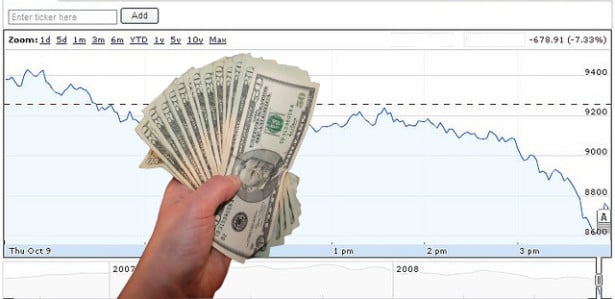 U.S. stocks fell at the end of trading on Monday after the Dow reached a record, hitting 16,000 for the first time. Investors are now concerned that equities are too high after the market has seen six straight weeks of gains, bolstered in part by Janet Yellen's assurances that the Federal Reserve will continue with its bond purchases when she replaces Ben Bernanke as Chair. The majority of economists surveyed by Bloomberg believe that the Fed will wait until March to begin tapering.

Gold: -1.12% to $1,273.00 per ounce Oil: -0.95% to $92.95 per barrel U.S. 10-Year: -1.14 to 2.678
Are the Rules Finally Changing for Wall Street? As Chair of the Fed, Paul Vocker is perhaps best remembered for curbing the rampant inflation, and as Chair of President Barack Obama's Economic Recovery Advisory Board, he is perhaps best remembered for the provision of the Dodd-Frank Wall Street Reform and Consumer Protection Act that bears his name, the Volcker Rule.
Here's What's Happening at Euro Finance Week: Euro Finance Week, a summit of individuals involved in Europe's banking industry, kicked off amid uncertainty over how Europe's banks will be restructured in the coming years, Bloomberg reports. The week is nominally a meeting in Frankfurt for bankers and officials to discuss upcoming changes in policy as well as the economic climate of the region. However, this year's edition is shaping up to be unlike any other.

Dow at 16,000, S&P at 1,800: Here's How to Unpack New Market Records: In market economies, price is everything. Prices serve as a shortcut to understanding the relative value — fundamental or otherwise — of an asset, and can illuminate supply and demand relationships. Prices are one of the purest forms of information a trader, investor, or economist can access, and at the end of the day, most (if not all) conversations about the stock market can be reduced to a discussion about prices.
Here's your cheat sheet to today's top stocks stories:
Boeing Co. (NYSE:BA) and its European rival Airbus both received record aircraft orders from airlines based in the Middle East on Sunday, the first day of the Dubai Airshow. Boeing, in particular, is coming out victorious, with its $95 billion worth of orders for the 777X jet representing the largest-ever commercial aircraft order by dollar value. Emirates Airline alone ordered 150 units of Boeing's 777X, Etihad Airways ordered 25, and Qatar Airways ordered 50; this is in addition to the 34 planes Lufthansa previously said it would order.
Sony Corp. (NYSE:SNE) has said that it sold 1 million of its new PlayStation 4 game consoles during the first 24 hours after the device went on sale on Friday. Sony is counting on the console to help revive its consumer electronics business. Sony previously said that it received 1 million pre-orders for the devices, and it expects to sell 5 million units through March. Meanwhile, Microsoft (NASDAQ:MSFT) is due to release its competing device, the Xbox One, on this coming Friday.
Johnson & Johnson's (NYSE:JNJ) Janssen Biotech, Inc. and Pharmacyclics Inc. (NYSE:PCYC) have teamed up on the drug Imbruvica, which has been approved by the Food and Drug Administration to treat patients with mantle cell lymphoma (MCL). The new drug comes at a high price for patients. In Johnson & Johnson's press release, Michael Wang, M.D., of the Department of Lymphoma/Myeloma at The University of Texas MD Anderson Cancer Center explained what the drug treats. MCL, Johnson & Johnson says, is an "orphan disease," a disease with high unmet need, and fewer than 200,000 people affected.
Nokia Corp.'s (NYSE:NOK) advancing share price indicates that its shareholders are likely to approve the acquisition of Nokia's devices and services unit to Microsoft, even though that deal means the selling of a business representing more than half of its sales. As the Financial Times reported Sunday, the future of Nokia and its mobile phone business will likely be determined at a general meeting held at the company's headquarters in Helsinki, Finland on Thursday.

Microsoft Corp. (NASDAQ:MSFT) has been downgraded due to its ongoing CEO search. Kash Rangan of Bank of America has brought the firm's rating on Microsoft from Neutral to Underperform with a price target of $36, as the analyst thinks that there is 10 percent upside if Ford (NYSE:F) CEO Alan Mulally gets the position and 10 percent downside if one of the other reported candidates does; Rangan believes that asset divestitures will turn into "distant realities" if a candidate other than Mulally is named as Steve Ballmer's successor.
JPMorgan Chase & Co. (NYSE:JPM) has some faith from RBC Capital Markets analyst Gerard Cassidy. The analyst thinks that the bank will soon place its legal troubles behind it, finally emerging from the tumult of the financial crisis. In a note to his clients, Financial Post reports, Cassidy said that, "We believe most of the litigation resulting from the 2008-09 Financial Crisis will be put behind the company over the next 12-18 months." One legal battle was resolved November 15. JPMorgan reached a $4.5 billion dollar settlement, with twenty-one institutional investors to resolve a dispute involving residential mortgage-backed securities issued by JPMorgan.
Follow Jacqueline on Twitter @Jacqui_WSCS
Don't Miss: Here Is Why Service Carriers Are Avoiding Cellular Unlocking.