Microsoft Deems Outlook.com Ready and 3 Dow Movers Not to Miss
Intel Corporation (NASDAQ:INTC): Current price $21.14
The corporation is positioning its new QDR-80 InfiniBand to rival Mellanox (NASDAQ:MLNX), according to The Register.

Microsoft Corporation (NASDAQ:MSFT): Current price $27.98
Microsoft reveals that Outlook.com is ready for mainstream usage and also that it will start upgrading every Hotmail user to Outlook.com. This upgrade is seamless and instant for Hotmail customers.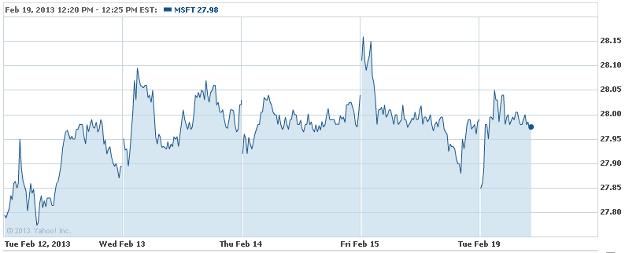 Exxon Mobil Corporation (NYSE:XOM): Current price $89.03
Exxon Mobil has replaced 115 percent of its 2012 production by adding proved oil and gas reserves totaling 1.8 billion oil-equivalent barrels, including a 174 percent replacement ratio for crude oil and other liquids. At year-end 2012, ExxonMobil's proved reserves totaled 25.2 billion oil-equivalent barrels, comprising 51 percent liquids and 49 percent natural gas. At year-end 2011, the company's proved reserves base was 24.9 billion oil-equivalent barrels which was made up of 49 percent liquids and 51 perecnt gas. Liquid additions during last year totaled 1.4 billion barrels or 174 percent of production and natural gas additions totaled in excess of 400 million oil-equivalent barrels for a 56 percent replacement ratio. Excluding the impact of asset sales, reserve additions during 2012 replaced 124 percent of production.
Don't Miss: How Big is E-Commerce?