Microsoft Is More Likely to Buy BlackBerry Says Analyst and 2 Other Hot Stocks to Watch
Microsoft Corp. (NASDAQ:MSFT): Current price $32.69
Analyst Peter Misek at Jefferies wrote in an investor note early Thursday that subsequent to its acquisition of Nokia's handset unit, it is more likely that Microsoft will buy BlackBerry. If this happens, the software behemoth would become the definitive number three handset maker — having the capacity to sell its devices to carriers more easily, said Misek. He added that Microsoft would  then be the leader in the corporate mobile device market, and also a key player in aiding companies in the management of their mobile devices. Misek observed that helping firms manage their mobile devices is an area that Microsoft "would love to get into."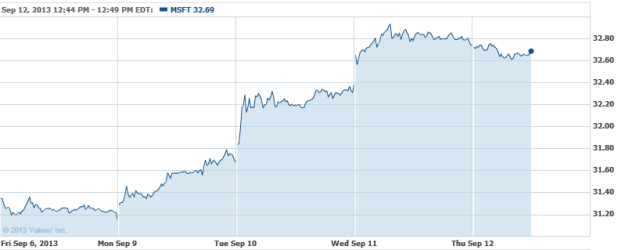 Lululemon Athletica Inc. (NASDAQ:LULU) Current price $65.01
The premium yogawear retailer is still getting over an embarrassing recall of excessively see-through yoga pants, lowering its outlook for full-year sales and profits on Thursday, which sent its shares down more than 6 percent in heavy trading. Lululemon said that it forecasts mid single-digit comparable-store sales growth during the third quarter, which is down from its better days when sales jumped by 10 percent and more from one quarter to the next. The company said that the recall would be a factor causing delayed deliveries through the rest of 2013, costing it between $40 million and $45 million.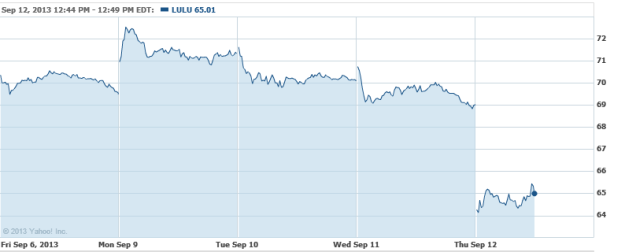 Ford Motor Co. (NYSE:F): Current price $17.35
On Wednesday, an Ohio jury has turned down a claim by commercial truck dealers that Ford Motor Co. overcharged them for more than 11 years by offering discounts to other dealerships. The jury returned the verdict in the class-action lawsuit brought by Westgate Ford Truck Sales of Youngstown last year. Dealers had been awarded close to $2 billion in the first trial in 2011 but in 2012, an appeals court turned aside the ruling and said that Ford's defense must have more leeway. Attorney James Lowe, who represents the dealers, said that no decision has been made thus far regarding an appeal, and that, "It has been a long fight and I suspect that it's not over."

Don't Miss: Is This Microsoft's Answer to Apple's Siri?