Microsoft Leads Attempt to Alter US Tax Code and 2 Other Hot Stocks to Watch
Microsoft Corporation (NASDAQ:MSFT): Current price $33.72
Microsoft, along with Merck & Co., Amgen and other tech-focused firms are collaborating to push for United States tax code changes which would not place income earned from patents and intangible assets at a disadvantage. The companies are a part of the newly-created Tax Innovation Equality Coalition, including Xilinx, Adobe Systems, and Netflix (NASDAQ:NFLX). The group announced its formation Monday, and is responding to proposals, including one from House Ways and Means Chairman Dave Camp (R-MI), that if passed, would apply different tax rules to income earned from intangible assets. Camp has endorsed an approach that would apply a 15-percent immediate tax to that sort of income regardless of where it is earned, giving the firms a tax increase abroad and a tax cut at home. At the same time, other corporate income would be subject to a 25-percent rate on domestic profits with almost no U.S. tax on foreign income.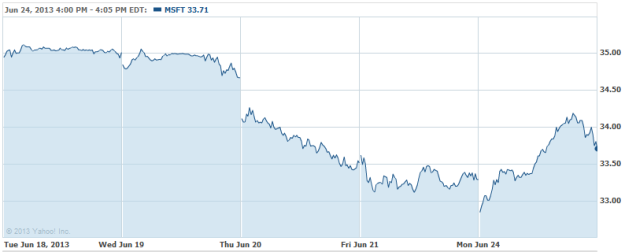 American International Group (NYSE:AIG): Current price $42.32
On a bad day for shares in general, AIG is down about 4 percent in late morning trading, on speculation that the company will not be able to raise as much money as had been planned by divesting its plane-leasing division. On Friday, the plane-leasing unit, International Lease Finance Corp., updated the registration statement for an initial public offering, after AIG last week extended the deadline until July 31 for a sale of the unit to a group of Chinese investors. Back in December, AIG reached a deal to sell off 80 percent of Los Angeles-based ILFC for roughly $4.2 billion to reduce debt and to simplify the insurer. As part of the extension, AIG has the right to pursue other offers or ready itself for an IPO.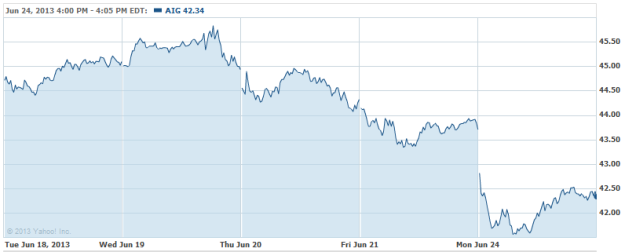 Rite Aid Corporation (NYSE:RAD): Current price $2.76
Rite Aid reports that its board has promoted Senior Executive Vice President and Chief Operating Officer Ken Martindale to president and chief operating officer.  Chairman, President and Chief Executive John Standley will continue as chairman and chief executive officer. Martindale's promotion is effective immediately.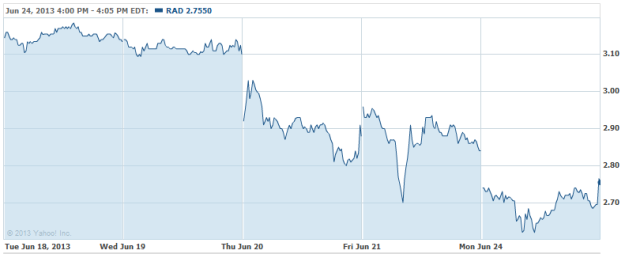 Don't Miss: Is Microsoft's Structural Shakeup Right Around the Corner?