Microsoft May Be Getting Into Watch Business and 2 Dow Movers To Watch
Microsoft Corporation (NASDAQ:MSFT): Current Price $28.84
The Wall Street Journal reports that Microsoft is examining designs for a "touch-enabled watch device." The report cites executives at suppliers, who note that the company has not thus far decided whether to commence output on a wearable computing device. A number of tech giants have been connected to the development of wearable computers, one of 2013′s hot tech topics. Forms said to be looking at moving into the market include Apple (NASDAQ:AAPL), Google (NASDAQ:GOOG), and Samsung. Sony already has a wearable device available now, the Sony (NYSE:SNE) SmartWatch, which connects to an Android smartphone and allows users check messages or screen phone calls.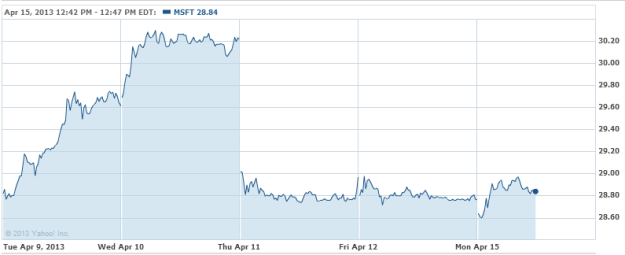 General Electric Company (NYSE:GE): Current Price: 23.07
While most firms jealously protect their patents, GE and the social product development company Quirky are working jointly to permit "at-home" inventors access to thousands of lab-tested patents. GE and Quirky, a four-year old company based in New York City, are not at all similar, but the Quirky founder Ben Kaufman says, "There's one thing we both have in common, believe it or not. We both stand for invention. We believe humans should leave the world a better place than they found it, and invention is a vehicle for that. Quirky's business model allows anyone to become an inventor." The company uses crowdsourcing through which to develop and provide feedback and shares as much as 30 percent of any resulting revenue, if a product is brought to market.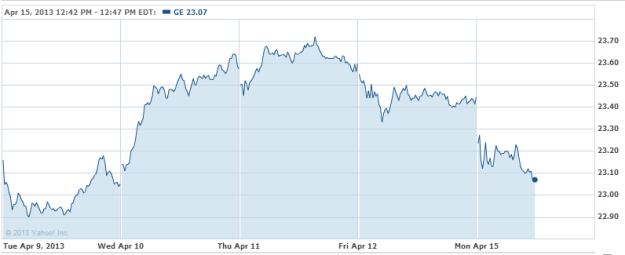 Chevron Corporation (NYSE:CVX): Current Price: 117.10
The corporation has been hit by Utah regulators with a violation notice in regards to a March fuel spill near a bird refuge in the northern part of the state. The Utah Division of Water Quality is requesting Chevron to supply a report on cleanup operations and a response plan for the pipeline rupture that leaked approximately 21,000 gallons of diesel fuel. The split in the pipeline that runs between between Salt Lake City and Spokane spilled diesel at Willard Bay State Park, and near the Bear River Migratory Bird Refuge. Division Director Walt Baker reported that his agency is working with the Attorney General's Office to make sure Chevron is held accountable for the spill and its impacts, remarking that "this release has had a significant effect on a fragile ecosystem. The popular bird-watching and recreational area has been closed because of this spill."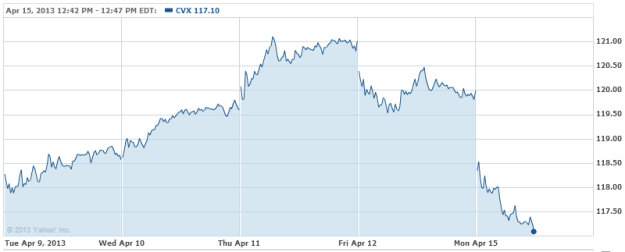 Don't Miss: Report: Microsoft and Yahoo Steal This Much of Google's Search Engine Market Share.