Microsoft Moves Up on Analyst Upgrade and 2 Other Hot Stocks to Watch
Microsoft Corp. (NASDAQ:MSFT): Current price $34.84
Shares of Microsoft are up around 1.45 percent following an upgrade at Jefferies from Hold to Buy. Analyst Ross MacMillan wrote that the company has several positive catalysts, such as benefitting from the changeover to the cloud by consumers, small and medium businesses, and larger firms. Further, the Windows operating system could get tailwind from advances in Intel's chips, while Microsoft's new operating structure more effectively highlights its key assets. The price target was moved from $33 to $42, as well.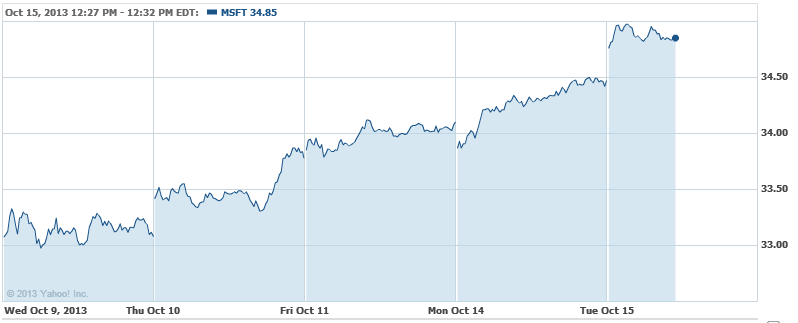 Molycorp Inc. (NYSE:MCP): Current price $5.84
The rare earth metals firm said Tuesday that it is running low on cash, and intends to sell $200 million in shares to raise funds in order to move forward. Shares are down more than 17 percent in heavy trading. Molycorp said that it raised $414 million in cash from a January stock offering that was meant to fund operations and working capital requirements, but that is now running low. As of September 30, the company said it had roughly $160 million of cash. In a regulatory filing, Molycorp said that delays in getting output at its Mountain Pass, California facility to proper levels, which in turn cut into revenue and cash flow for the first nine months of 2013.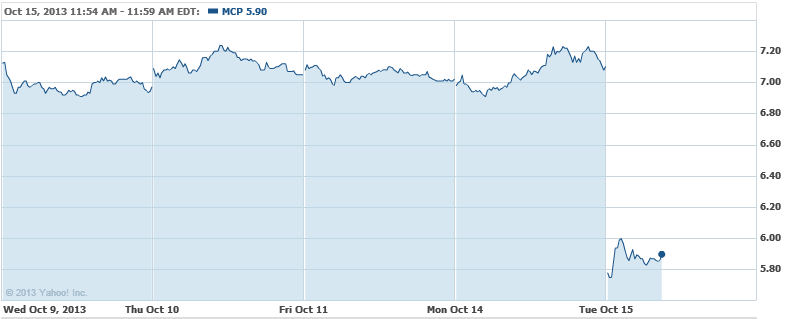 Facebook Inc. (NASDAQ:FB): Current price $50.77
Facebook raised its price target from $45 to $60. The firm said that Facebook's introduction of customizable audience tools and data management provider partnerships is allowing offline marketers to re-target online, providing additional pricing strength, and expanding Facebook's addressable opportunity into offline commerce. Beyond that, Evercore said that ARPU upside potential is still significant, and restates its Overweight.

Don't Miss: Gravity and 4 Films That Are Making Box Office Headlines.