Microsoft Mulls Big Promotion For Tony Bates and 2 Other Dow Movers To Watch
Microsoft Corp. (NASDAQ:MSFT): Current price $34.00
Sources told Bloomberg that Microsoft CEO Steve Ballmer is mulling a reorganization that would place Skype president Tony Bates in acquisitions and relationships with software, and that Ballmer might also give Windows Chief Julie Larson-Green oversight of hardware engineering for all of Microsoft. The CEO is expected to unveil a reorganization as soon as next week.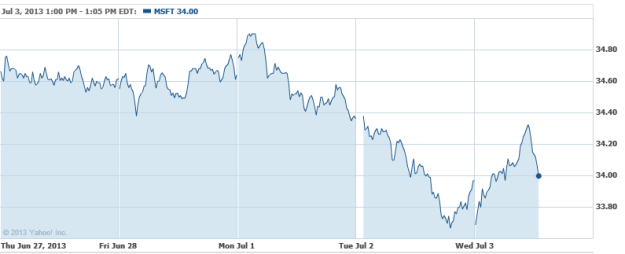 International Business Machines Corp. (NYSE:IBM): Current price $193.23
Three students from competition host St. Petersburg National Research University of Information Technologies, Mechanics and Optics, have emerged as world champions of the 37th annual World Finals of the ACM International Collegiate Programming Contest, which is sponsored by IBM. Known as the Battle of the Brains, the oldest and most prestigious programming competition challenged 120 university teams to solve complex real-world problems under a strict five-hour deadline. The students were faced with key emerging trends and capabilities such as applying analytics tech to big data, major economic growth engine and career opportunity on a global basis.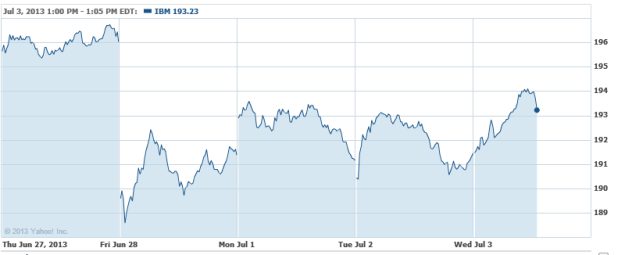 American Express Co. (NYSE:AXP): Current price $74.52
A California state report says 2.5 million residents in the state had Social Security numbers, credit card and bank account information, and other sensitive information exposed in 131 data breaches since 2010. The San Jose Mercury News reported the disclosure was made Monday by Attorney General Kamala Harris in the first report of its kind for the state. The breaches occurred at companies like American Express and Barnes & Noble (NYSE:BKS), as well as at banks, universities and government agencies. Harris released the report under a state law that went into effect in 2012, mandating that institutions who collect data to report any breaches involving more than 500 people.