Microsoft Mulls Demise of the Cookie and 2 Other Dow Movers to Watch
Microsoft Corp. (NASDAQ:MSFT): Current price $33.80
According to Tim Peterson at Ad Age, Microsoft joins a growing list of tech majors that are mulling the idea of supplanting the cookie with in-house tracking. He said Apple, Google, Facebook, and Amazon are open to some sort of new technology. In September, The Wall Street Journal's Elizabeth Dwoskin wrote that Google is in the early phases of deciding whether to drop the cookie, which would be a coup in the $120 billion market. Ad Age says that in the case of Microsoft, the firm would develop its own tracking tech that would affect desktop PCs, mobile devices, and tablets running the Windows software, along with services such as its Xbox game console, Internet Explorer browser, and Bing search engine.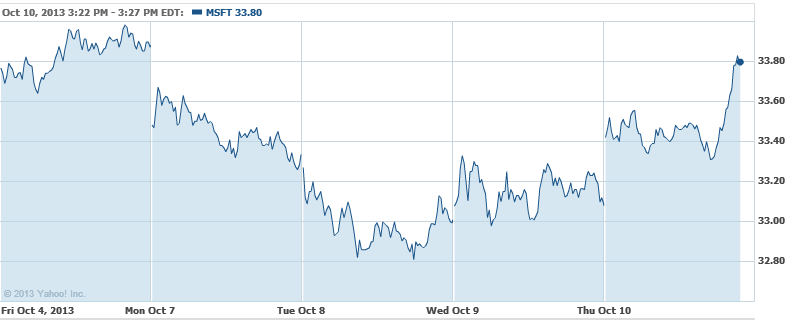 McDonald's Corp. (NYSE:MCD): Current price $94.27
McDonald's announced Thursday that it named a new chief for its German operations as the No. 1 restaurant chain deals with a downturn in consumer spending on the continent. Holger Beeck, currently Microsoft's chief operating officer, will take over at the end of November from Bane Knezevic, who is exiting the chief executive position at his own request after eight years. Germany is McDonald's fourth-largest market, with $4.3 billion in sales.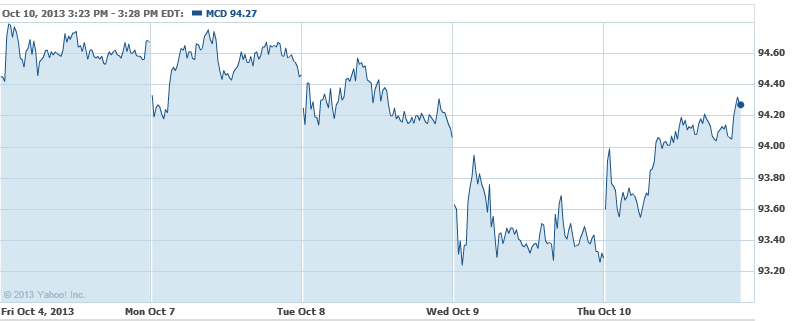 Home Depot Inc. (NYSE:HD): Current price $75.43
The U.S. Environmental Protection Agency on Thursday honored Home Depot with a 2013 WaterSense Retail Partner of the Year award. The home improvement giant was recognized during the WaterSmart Innovations Conference for its commitment to water efficiency and outstanding endeavors to support the WaterSense program last year. In 2012, WaterSense-labeled products and new homes helped Americans save in excess of 202 billion gallons of water, according to a press release. More than 2,700 retail, utility, manufacturer, builder, organizational, and professional partners helped WaterSense attain these accomplishments, but each year, a few in particular — including Home Depot in 2013 — are acknowledged for their significant contributions to the program.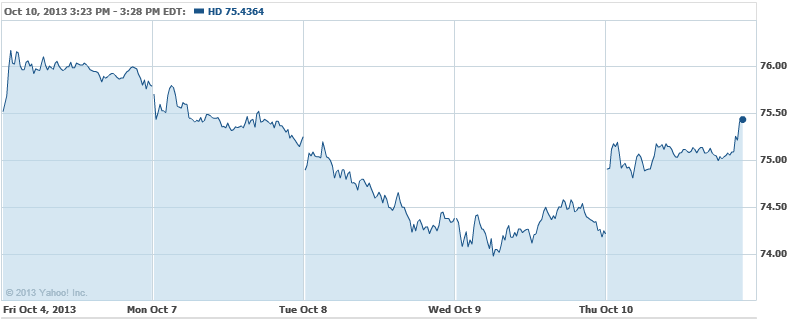 Don't Miss: A Breakup May Be BlackBerry's Only Exit Gate.