Microsoft Mulls Subscription Deal With British Sky and 2 Other Hot Stocks to Watch
Microsoft Corporation (NASDAQ:MSFT): Current price $34.69
Knowledgeable sources say that Microsoft is in discussions with Sky, exploring the idea of selling Xbox One with Sky subscriptions. The device might run as a set-top-box or companion device, but in this case, the console could be sold at a largely reduced cost. It is possible, according to the sources, that the deal may already have been concluded, with official confirmation coming very soon. Xbox declined to comment when asked by MCV, saying that it does not comment on rumor and speculation.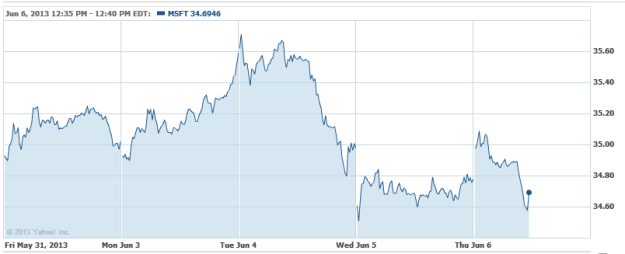 Ciena Corporation (NASDAQ:CIEN): Current price $18.44
The network equipment maker Ciena Corporation has posted a surprise second-quarter profit on an adjusted basis, thanks to a 3-percent rise in its gross margin, and then projected a stronger-than-expected revenue for the current quarter. Shares jumped by 10 percent before the bell. Ciena says that it anticipates third-quarter revenue of between $515 million to $545 million. Consensus stood at $509.5 million, said Thomson Reuters I/B/E/S.

Rite Aid Corporation (NYSE:RAD): Current price $2.86
On Thursday, Rite Aid announced its sales results for May. During the five weeks ended June 1st, same store sales fell by 1.5 percent year-over-year from 2012, with May front-end same store sales rising by 0.8 percent. Pharmacy same store sales, including an approximate 373-basis points negative impact from new generic debuts, slid by 2.7 percent. Total drugstore sales for the five-week period decreased by 1.5 percent to $2.423 billion, versus $2.459 billion for the same period in 2012. Prescription sales comprised 67 percent of drugstore sales, and third-party prescription sales came to 97 percent of pharmacy sales.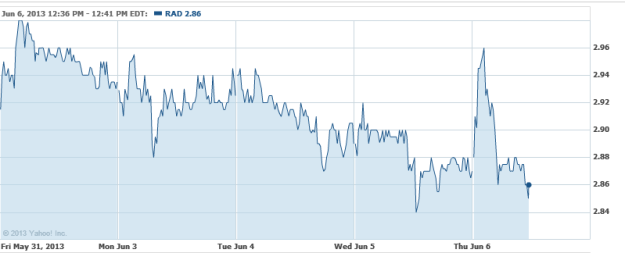 Don't Miss: Can Microsoft Fix Its Windows Blunders?