Microsoft-Nokia Talks Leak Out and 2 Other Hot Stocks to Watch
Microsoft Corporation (NASDAQ: MSFT): Current price $34.54
Multiple reports to The Motley Fool suggest that advanced-stage merger discussions between Microsoft and the hardware manufacturer Nokia Corporation (NYSE: NOK) fell apart during the third week of June. The talks had been pretty much leakproof, and most observers were caught unaware that they were ongoing. Of course it remains possible that the discussions could resume, but sources within the firms seem to think such an occurrence unlikely, as the two parties were unable to agree on a fair price for Nokia's assets. Further, it is thought that Microsoft's primary motive for an acquisition is Nokia's smartphone manufacturing unit, and it might not have wanted responsibility for the firm's so-called "dead weight" businesses.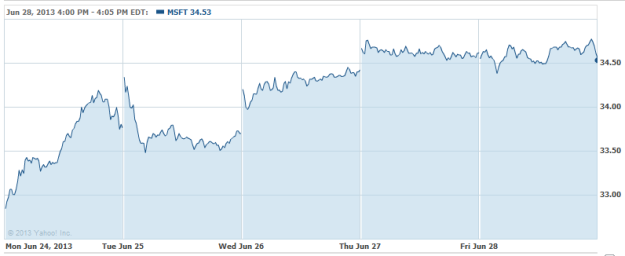 Ford Motor Company (NYSE:F): Current price $15.47
Ford reported on Friday that it is recalling over 13,100 Ford Explorer, Taurus and Lincoln MKS models, due to fears that the child safety locks on the rear doors might not work properly, meaning that the child safety locks would turn off automatically, permitting the doors to be opened from the inside. The recall affects 2013 models that were built at the Chicago Assembly Plant between November 29, 2012 and December 12, 2012. Ford said that so far no accidents or injuries have been reported due to the malfunction. The affected vehicles are mostly located in North America.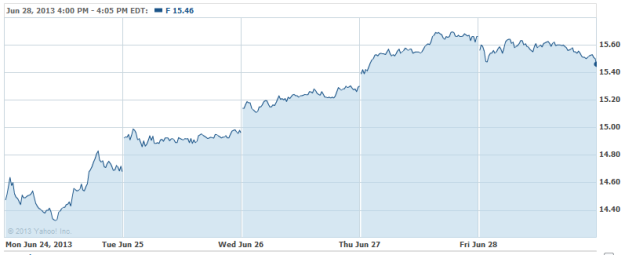 Comcast Corporation (NASDAQ:CMCSA): Current price $41.75
The ex-dividend date for shares of Comcast is July 1st. Shareholders as of market close on Friday will be eligible for a dividend of 20 cents per share. Based upon a price of $40.26 as of 9:30 a.m. Eastern Time, the dividend yield stood at 1.9 percent. During the past 30 days, the average volume for Comcast has been 11.9 million shares per day. As of the close on Thursday, shares are up by 7.6 percent thus far in 2013.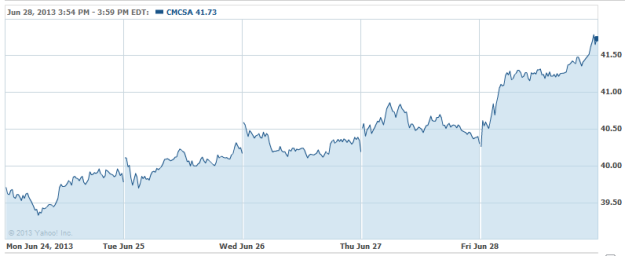 Don't Miss: Why Is China Accusing Amazon of Piracy?