Microsoft Office 365 Selected By New Organizations and 2 Other Dow Movers to Watch
Microsoft Corporation (NASDAQ:MSFT): Current price $33.25
Microsoft reports that a number of new organizations have chosen Microsoft Office 365 for enhanced communication and collaboration following their having deployed or piloted Google Apps. SEPCOIII is among the organizations, along with Sensia Halsovard AB, and Arysta LifeScience. These firms join other recently announced customers, like FHI 360, Caltex Australia, and Santa Clara County, which selected Office 365 for its compliance, enterprise-class capabilities, security and privacy features, all supplied in a cloud service with a 99.9-percent financially backed uptime guarantee from the corporation.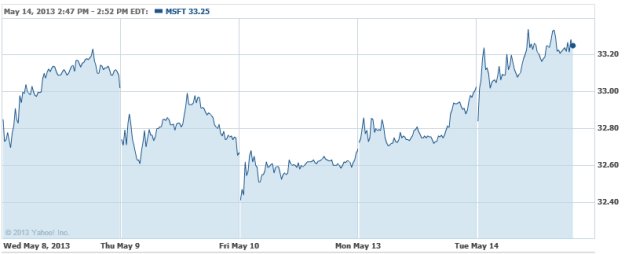 Verizon Communications (NYSE:VZ): Current price $52.91
Nokia Corporation (NYSE:NOK) is poised to introduce a new Lumia 928 via the number one United States telecom carrier, Verizon Wireless. The launch is thought to be a try by the Finnish firm to gain a significant beachhead in the high-margin smartphone market inside the U.S. The Lumia 928 is not unlike Nokia's flagship Lumia 920, and features a 1.5-gigahertz processor, brighter 4.5-inch display and an 8.7 megapixel PureView camera, with Carl Zeiss lenses that permit sharp images even in low lights. This most recent smartphone is 23 grams lighter than Lumia 920 and runs on Microsoft's (NASDAQ:MSFT) Windows 8 operating platform.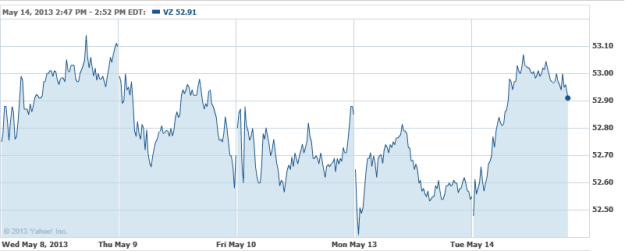 Wal-Mart Stores (NYSE:WMT): Current price $78.67
The retailing behemoth has asked that the Bangladesh government cease production at one apparel factory and look into conditions at another, until workers' safety could be certified. The unusual move was after the death of over 1,100 people in the collapse of a factory in that country. Wal-Mart Vice President of Ethical Sourcing Rajan Kamalanathan commented that "the government of Bangladesh did the responsible thing last week by closing factories believed to be dangerous."

Investing Insights: Will Electronic Arts Surge Higher?