Microsoft Poised to Win EU Nod for Nokia Unit Purchase
Microsoft Corp. (NASDAQ:MSFT): Current price $37.52
Two sources told Reuters on Friday that Microsoft is poised to obtain unconditional EU regulatory approval for its proposed $7.3 billion takeover of Nokia's mobile phone arm. The acquisition, which was announced in September and includes a 10-year licensing arrangement of Nokia's patent portfolio, exemplifies Microsoft's drive into the competitive consumer devices market. One source said, "The (European) Commission is expected to clear the deal without conditions."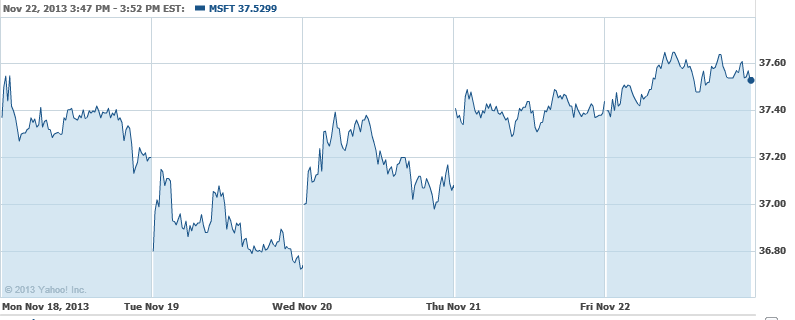 Chevron Corp. (NYSE:CVX): Current price $123.99
Chevron said Friday that it does not find the development of its North Sea Rosebank project as currently economically attractive, raising eyebrows regarding a resurgence of the North Sea as fears rise concerning costs. The oil major said that Rosebank, which lies west of the Shetlands in the United Kingdom North Sea, "does not currently offer an economic value proposition that justifies proceeding with an investment of this magnitude." Prior to this in 2013, Statoil sold its interest in the oil and gas development to OMV of Austria.

McDonald's Corp. (NYSE:MCD): Current price $98.25
McDonald's CEO Don Thompson said that the restaurant chain is not close to having built too many locations globally. During an interview at The Year Ahead: 2014, a conference in Chicago sponsored by Bloomberg LP, Thompson said, "I don't see in my lifetime when there would be a time of saturation with McDonald's." He added that the Big Mac seller is "nowhere near saturation. There's room for new stores in some of McDonald's biggest markets, including the U.S. and France." The fast-food colossus plans to open 1,500 new locations worldwide in 2013 and up to 1,600 in 2014.

Don't Miss: Microsoft Says: Skip Work and Play Xbox Today.