Microsoft Recruits Geeks to Combat Attacks on PCs and 2 More Heavily Traded Stocks to Follow
Microsoft Corporation (NASDAQ:MSFT): Current price $34.59
Microsoft wants to recruit computer geeks in its continuing endeavors to protect Windows PCs from hacks, proffering rewards of up to $150,000 to anyone who can help identify and repair major security holes in its software. The company unveiled the rewards program, which is one of the most generous in the high-tech industry thus far, on Wednesday, as it looked for ways to prevent sophisticated attackers from subverting the new security tech it has introduced in its most recent versions of the Windows operating system. This program is open to computer experts even as young as 14, although minors need permission from their parents to participate. However, the residents of countries under United States sanctions, including Cuba, Iran, North Korea, Sudan and Syria, are not eligible.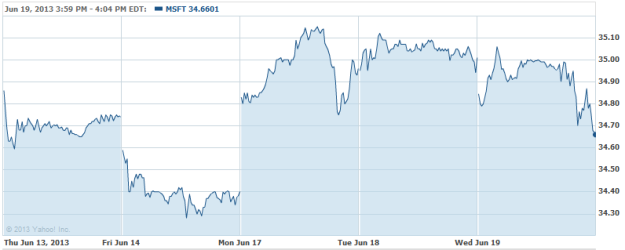 Nokia Corporation (NYSE:NOK): Current price $
On Tuesday, the Huawei executive Richard Yu got plenty of notice with his musings concerning a possible purchase of Nokia if the latter were amenable to the idea. Fairly quickly thereafter, Huawei said that Yu was speaking only philosophically and that the firm had "no plans" for such an acquisition. Speaking with reporters prior to the United Kingdom intro of Huawei's latest flagship smartphone, the Ascend P6, Yu, who is chairman of the firm's consumer business group, said that Huawei might consider buying Nokia if the situation were right, commenting that, "We are considering these sorts of acquisitions; maybe the combination has some synergies, but it depends on the willingness of Nokia. We are open-minded," according to the Financial Times.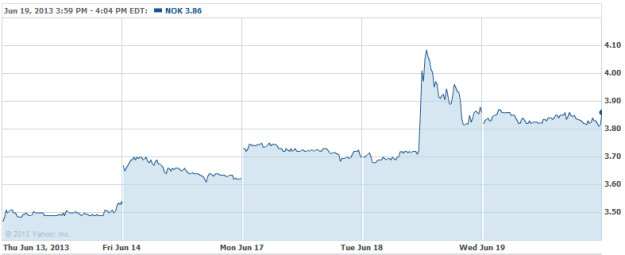 eBay (NASDAQ:EBAY): Current price $52.23
EBay Chief Executive John Donahoe forecast at a tech conference in San Francisco that the firm's PayPal division will become the first foreign major to receive a payments license in China. At the Reuters Global Technology Summit, Donohoe said, "I am confident that PayPal will be the first non-domestic company to get a  payments license in China. That could be in three months or five years." However, he also cautioned that it is difficult to predict when PayPal would actually obtain such official Chinese government approval.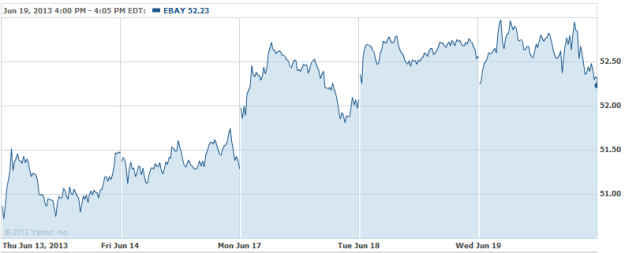 Don't Miss: Samsung Showers Money on Jay-Z Album.