Microsoft Reportedly Looking at Mark Hurd for CEO and 2 Other Dow Movers to Watch
Microsoft Corp. (NASDAQ:MSFT): Current price $34.47
According to The Wall Street Journal, Microsoft is said to be looking at Oracle president and former Hewlett-Packard chief Mark Hurd in its search for a new chief executive. Hurd is reportedly one of a minimum of eight outsiders approached by Microsoft to replace current CEO Steve Ballmer. As chief of Hewlett-Packard, Hurd became renowned for managing costs, although critics contend that he went too far. However, he exited suddenly, in 2010, during a flurry of claims of improper behavior that included a sexual harassment complaint.

JPMorgan Chase & Co. (NYSE:JPM): Current price $52.71
JPMorgan declared a quarterly dividend on the outstanding shares of the following preferred stock issues: 5.50 percent Non-Cumulative Preferred Stock, Series O, at $137.50 per share, which is equivalent to $0.34375 per related Depositary Share; and 5.45-percent Non-Cumulative Preferred Stock, Series P, at $136.25 per share, equivalent to $0.340625 per related Depositary Share. The dividend payment date is December 1, payable on December 2 to stockholders of record at the close on November 1.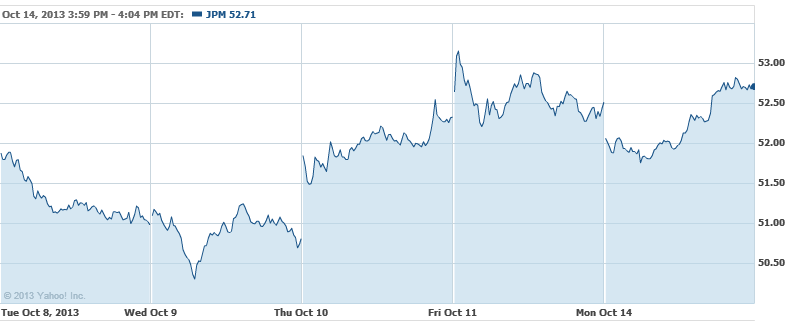 International Business Machines Corp. (NYSE:IBM): Current price $186.86
Wall Street is said to be anticipating higher profit for when IBM posts its third-quarter results on Wednesday. The consensus calls for profit of $3.96 per share, marking a rise from $3.62 per share year-over-year. The estimate is unchanged over the past month, but it has increased modestly from three months ago, when it stood at $3.93. Meanwhile, analysts forecast earnings of $16.87 per share for the fiscal year.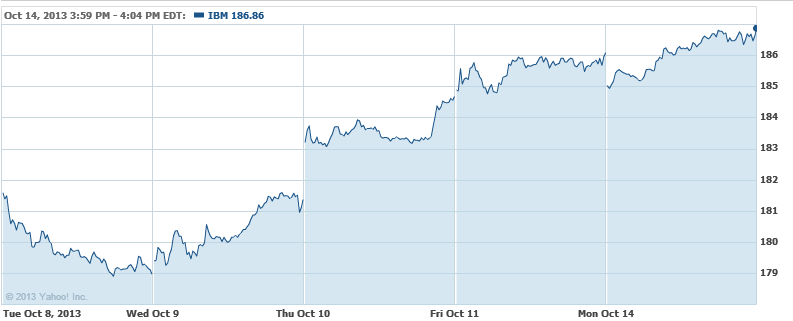 Don't Miss: Microsoft Updates Windows for New Nokia Devices.