Microsoft Shocks Analysts With Xbox One Price and 2 Other Hot Stocks to Watch
Microsoft Corporation (NASDAQ:MSFT): Current price $35.16
The general manager of Microsoft Game Studios Phil Spencer announced that the company's next generation console would be available in November, at a price of $499, and some of the audience audibly gasped. Analysts, observers and gamers has expected that the Xbox One would at a minimum $100 lower, and they were not particularly pleased with Spencer's revelation. Edward Williams at BMO Capital Markets remarked that "the launch price is above our expectations, and potentially pushing the envelope as Microsoft looks to expand the console beyond the core gaming demographic and to a broader consumer audience."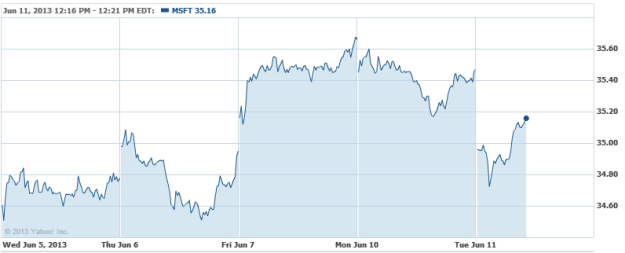 Bank of America Corporation (NYSE:BAC): Current price $13.21
Should BofA fail to gain court approval for an $8.5 billion resolution with mortgage investors, its Countrywide Financial division could fall into bankruptcy, observed a bank executive on Monday. Chief Risk Officer Terrence Laughlin was testifying at a hearing in a New York state court as to whether it should okay the arrangement, which would settle claims by investors who alleged that Countrywide misrepresented the mortgages' underlying bonds they purchased. During the talks leading up to the June 2011 settlement, the big bank threatened to put Countrywide, which it had rescued while the financial crisis of 2008 was peaking, into bankruptcy; Laughlin said that such a scenario was still on the table.

Morgan Stanley (NYSE:MS): Current price $26.49
The company has declared a regular quarterly dividend on the outstanding shares of each of the following preferred stock issues: Floating Rate Non-Cumulative Preferred Stock, Series A at $252.78 per share, which is equivalent to $0.25278 per Depositary Share; 10-Percent Non-Cumulative Non-Voting Perpetual Preferred Stock, Series C at $25 per share. The dividends for the Preferred Stock Series A and C are payable on July 15 to stockholders of record at the close on June 28.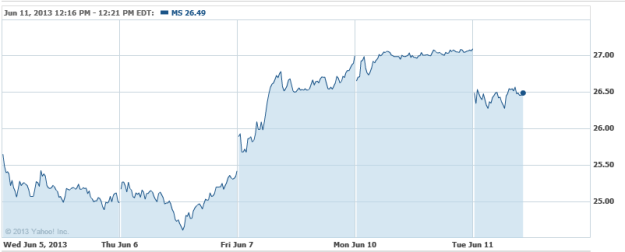 Don't Miss: Microsoft at E3: Finally Enough Games?