Microsoft Soars on Ballmer Exit, BP Claims Deadline Extended: Market Recap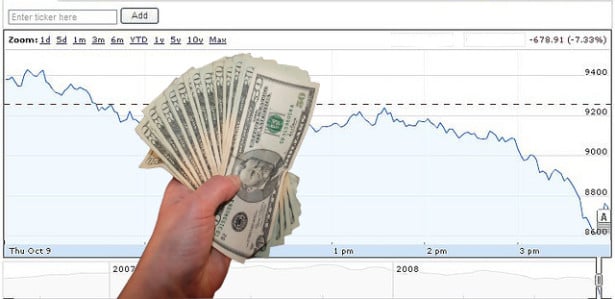 U.S. stocks rose today on data showing that new home sales fell during July, which investors think could put a dent in the Federal Reserve's plans to start cutting stimulus next month. Data released by the Commerce Department showed that new home sales in July plunged the most in three years.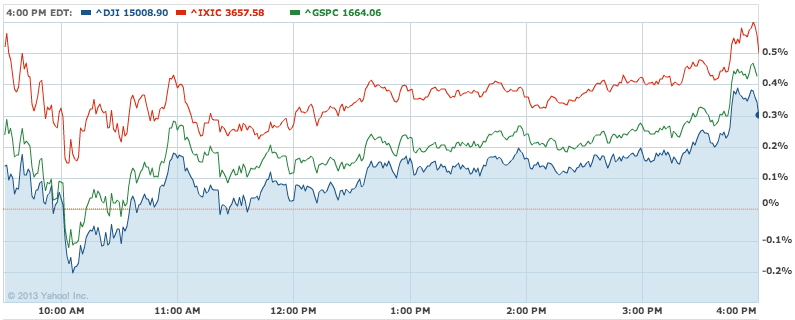 Gold: +1.86 to $1,396.30 per ounce Oil: +0.04% to $105.00 per barrel U.S. 10-Year: -2.86 to 2.818%
Is This a Sign Fed Tapering Will Hit the Jobs Market? The tapering of asset purchases by the U.S. Federal Reserve seems imminent. Investors and economists around the world have indicated that a decision to reduce the number of mortgage-backed securities and longer-term Treasury securities being purchased by the Fed — currently at $85 billion each month — could be made as early as September.
Can Emerging Markets Survive the End of Quantitative Easing? Emerging markets are getting dumped by investors once more as currencies continue to free fall and bond yields spike in many of the world's important developing economies. A swath of currencies headlined by the Indian rupee are being shunned by investors as the dollar is looking more lucrative.
Can Mark Carney's Forward Guidance Withstand the U.K.'s Economic Recovery? The United Kingdom is joining Germany in propelling the European Union forward though its EU membership could be uncertain going forward. But for the time being, the U.K. is finding the necessary catalysts in order to grow.
Here's your cheat sheet to today's top stocks stories: 
Microsoft (NASDAQ:MSFT) has announced that Steven Ballmer, who has served as the company's chief executive since 2000, will retire within the next 12 months. To understate it, the news is a big deal. Ballmer has worked for Microsoft since 1980 and was the company's 30th hire. The technological landscape on which Microsoft was built has changed dramatically over the past decade, and in many ways, Ballmer has failed to keep up with the Joneses.
Pandora Media (NYSE:P) might seem like God's gift to music, but then you get the message alerting you that you've hit the 40-hour-per-month limit on mobile listening and you're all but deflated. But all is not lost, because thanks to a stream of upcoming competition, the Internet radio service announced Thursday that it would be removing the limit as of September 1, 2013, when then everyone will have access to hours and hours of free music.
Bank of America (NYSE:BAC), Citigroup (NYSE:C), and JPMorgan Chase (NYSE:JPM): Thanks to the lingering fallout from the financial crisis — civil and criminal lawsuits, the tough economic climate, and the increasing regulations and higher capital requirements imposed on banks by the Federal Reserve and other government agencies — many analysts are considering what the financial sector would look like if these mammoth banks were broken into pieces.
BP's (NYSE:BP) original April 2014 deadline for compensation claims related to the 2010 Deepwater Horizons spill to be submitted is likely to be extended, sources from both the court-administered compensation fund and BP told Reuters. The claim period may even last until 2015, but no official determination will made until October.
Gap Inc. (NYSE:GAP) showed positive second quarter earnings on Friday, with strong sales of athletic gear pushing the retailer ahead of expectations. The company's earnings per share came out even with expectations at 64 cents, a 30.6 percent growth versus last year. Revenue for the quarter was $3.87 billion, a 8.25 percent growth that was slightly ahead of forecasts of $3.83 billion.
Time Warner Cable (NYSE:TWC) and CBS Corp. (NYSE:CBS) drama continues, with seemingly no end in sight. Time Warner announced Friday that it would be giving out free antennas so that its customers experiencing a blackout of CBS programming could pick up America's most popular network the old-fashioned way.

Follow Jacqueline on Twitter @Jacqui_WSCS