Microsoft Surface Tablets to Equip Delta Air Lines Pilots and 2 Other Hot Stocks to Watch
Microsoft Corp. (NASDAQ:MSFT): Current price $33.02
On Monday it was announced that Delta Air Lines is equipping its 11,000 pilots with the Microsoft Surface 2 tablet, which they will use at first as an electronic flight bag instead of heavy paper-based flight kits containing navigational charts and aircraft operating and reference manuals. The device distribution to pilots flying the Boeing 757 and Boeing 767 fleets will commence later in 2013, and all Delta cockpits are forecast to become paperless by the end of next year.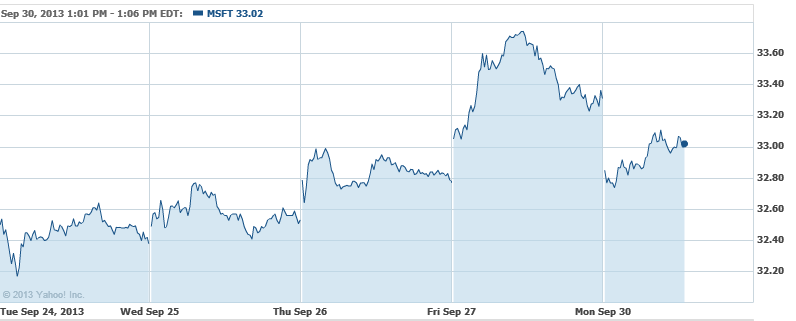 BlackBerry Ltd. (NASDAQ:BBRY): Current price $7.94
Two brokers on Monday reduced their price targets on BlackBerry shares to under the $9 level, and others reaffirmed their $7 targets. The stock is down 0.75 percent to $7.97 just before noon Eastern Time, which is a bit below Friday's close, and $1.03 below the offer price from Fairfax, which still has a number of weeks to finalize due diligence and secure the necessary financing. Nomura lower its target from $9 to $8, and Canaccord Genuity slashed its target from $9 to $7. Both pointed BlackBerry's results for its second fiscal quarter, which were posted on Friday prior to the opening bell.

Brookfield Office Properties Inc. (NYSE: BPO): Current price $17.14
Brookfield Property Partners L.P. said Monday that it will acquire Brookfield Office Properties through a tender offer for "any or all" of the common shares of BPO that it does not currently own, for $19.34 per common share of BPO. Each BPO shareholder may choose to receive consideration per BPO common share of either 1 limited partnership unit of Brookfield Property Partners or $19.34 in cash, subject in each case to pro-ration based on a maximum of 174 million BPY limited partnership units (67 percent of the total value of shares tendered to the Offer) and a maximum cash consideration of $1.7 billion (33 percent of the total value of shares tendered to the Offer).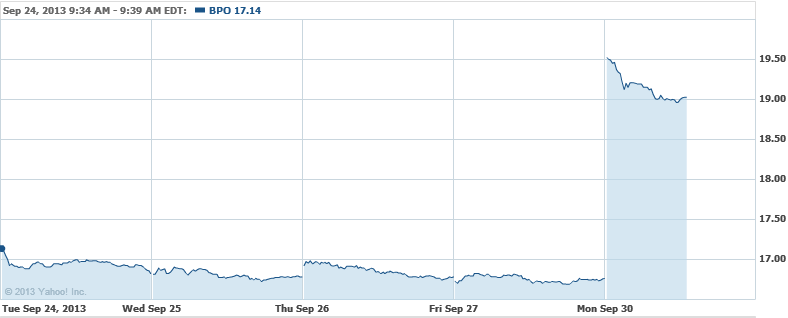 Don't Miss: Microsoft's Ballmer Goes Out With a Bang at Last Company Meeting.