Microsoft to Make Vringo Lawsuit Go Away and 2 Other Hot Stocks to Watch
Microsoft Corporation (NASDAQ:MSFT): Current price $35.10
On Thursday, Vringo said that Microsoft will resolve a lawsuit alleging that it infringed patents that allow Internet search engines to place ads most effectively. Vringo's I/P Engine subsidiary filed the lawsuit in January, and now Microsoft has agreed to shell out $1 million and enter into a licensing agreement as part of the accord, according to Vringo's United States regulatory filings. In the meantime, a Microsoft spokeswoman confirmed the accuracy of Vringo' description of the resolution, but did not comment further. The lawsuit was brought after a jury in Virginia awarded I/P Engine around $30 million in damages subsequent to fining firms including Google and AOL for infringing the same patents in question in the Microsoft case.

Celsion Corporation (NASDAQ:CLSN): Current price $1.92
Celsion said Thursday that Professor Riccardo Lencioni, MD, FSIR, EBIR, who is the Director of the Division of Diagnostic Imaging and Intervention at Pisa University School of Medicine, ECIO President and Lead European Principal Investigator for Celsion's Phase III HEAT Study will review the clinical trial results, including new emerging findings from the HEAT Study post hoc analysis, at the 4th European Conference on Interventional Oncology, which is being held June 19-22 in Budapest. At that time, Lencioni will make two presentations on hepatocellular carcinoma and related advances in interventional management.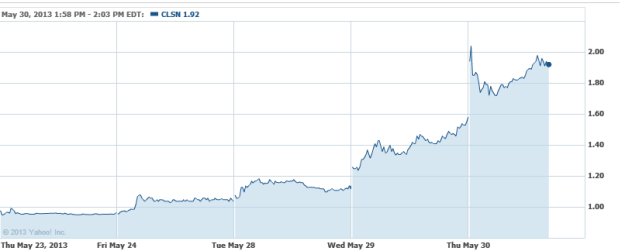 Ford Motor Company (NYSE:F): Current price $15.94
Ford will close its manufacturing operations in Australia in October of 2016, because of stalling sales and continued appreciation of the domestic currency. The iconic automaker will close two plants in Victoria state, an engine factory in Geelong and a vehicle assembly plant in Broadmeadows. These closures would eliminate 1,200 jobs at the facilities. However, it now appears that all other elements of Ford's business in Oz will remain, including the retention of one of four world PD hubs for Ford and keeping about 1500 employees staffed, along with parts and service operations and accompanying support services. Ford Australia President Bob Graziano said that the company lost $581 million during the last five years there and $136.5 million in 2012, as customers preferred smaller and cheaper imported vehicles manufactured by Mazda Motor or Hyundai Motor.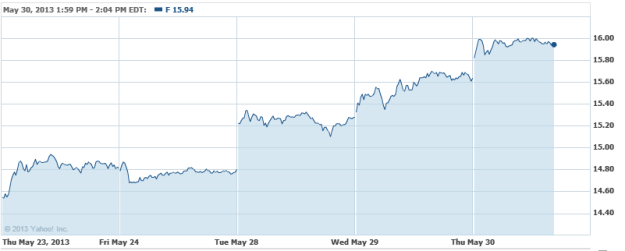 Don't Miss: Will a Next-Gen Mustang Roll Off Ford's Assembly Line Next Year?