Microsoft to Showcase New Ebox Console in May and 2 More Heavily Traded Stocks to Follow
Microsoft Corporation (NASDAQ:MSFT): Current price $
Eric Johnson at AllThingsD is reporting that Microsoft will showcase its next-generation Xbox videogame console at its Redmond, Washington, campus on May 21, according to invitations sent to reporters on Wednesday. The Verge had previously reported that the new Xbox, which is code-named Durango, will interact with owners' cable boxes. Microsoft's Nancy Tellem and Yusuf Mehdi had shared numbers in regards to its current living room fixture, the seven-year-old Xbox 360, at D: Dive Into Media in February.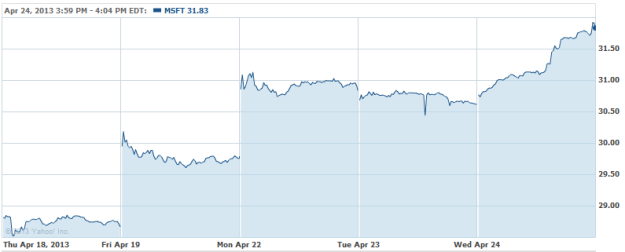 AT&T (NYSE:T): Current price $
On Wednesday AT&T said that it has expanded the country's fastest 4-gigabyte LTE network in Denver; Shelbyville, Kentucky; and Kokomo, Indiana, thus bringing additional customers into the latest generation of wireless network tech. AT&T had introduced 4-gigabyte LTE in Denver in November 2012, and the expanded coverage forms part of its ongoing rollout across the market.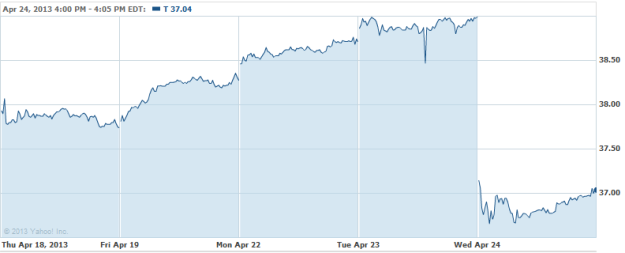 Procter & Gamble (NYSE:PG): Current price $
Shares of P&G and Tupperware Brands (NYSE:TUP) tumbled on Wednesday as the consumer and household products majors issued disappointing guidance. P&G reported a 5-percent increase in its third-quarter earnings to 99 cents, surpassing analyst estimates by 3 cents. Sales climbed by 2 percent to $20.6 billion, under the $20.7 billion analyst forecast on the slump in Europe and stalling growth in China. Shares plunged almost 5 percent in afternoon trade on the stock market Wednesday.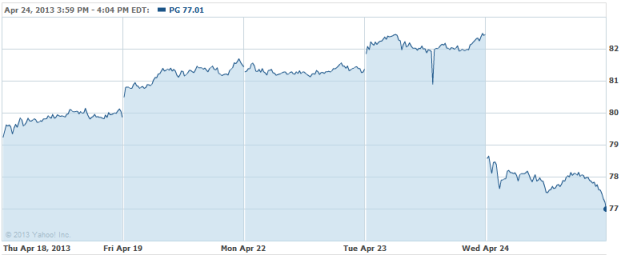 Don't Miss: Why Is Siri Endangering Drivers?