Microsoft Windows Azure Previewed In China and 2 Other Hot Stocks to Watch
Microsoft Corporation (NASDAQ:MSFT): Current price $34.60
On Wednesday, the carrier-neutral Internet data center services provider 21Vianet Group (NASDAQ:VNET), and partner of Microsoft, announced the official public preview of the latter's Windows Azure, in Shanghai. In a ceremony attended by a number of renowned tech executives and Chinese government officials, held at the China Pavilion at the World Expo site, Windows Azure was unveiled; it was announced that it will be available on June 6. United States Ambassador Gary Locke was also in attendance.

Clearwire Corporation (NASDAQ:CLWR): Current price $3.38
Clearwire has elected to accept an enhanced buyout offer by Sprint Nextel Corporation (NYSE:S) this week and is recommending that shareholders vote to approve the new bid that was hiked by 14 percent to $2.5 billion. Not all shareholders are on board so far, including Crest Financial, which has tossed aside the latest bid as well; Sprint is offering $3.40 per share for the half of Clearwire that it does not already own. In December, Sprint offered $2.97 per share. Clearwire now says that shareholders will be able to vote on May 31, with only those on record as of April 2 being eligible.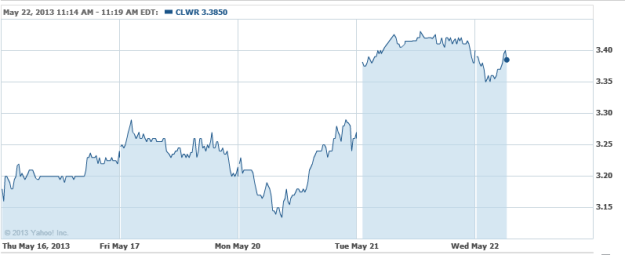 NetApp (NASDAQ:NTAP): Current price $38.15
NetApp missed estimates on revenues for its fourth quarter, ended April 26, with $1.72 billion, but met predictions on earnings per share. Year-over-year, revenue moved up slightly, with non-GAAP earnings per share increasing, but GAAP earnings per share fell. Gross margins grew, but operating margins slipped, and net margins narrowed. The 31 analysts polled by S&P Capital IQ anticipated revenue of $1.76 billion on the same basis.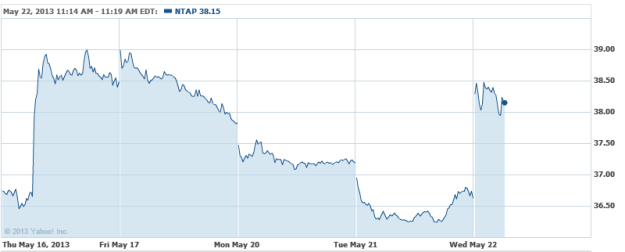 Investing Insights: Can 3M Continue This Explosive Run?