Microsoft's Build Conference Focuses on Windows 8.1 and 2 More Heavily Traded Stocks to Follow
Microsoft Corporation (NASDAQ:MSFT): Current price $34.57
It appears that most content of the Build conference, which is being held in San Francisco, is concentrated around improvements in, and modifications to, the next upgrade of the Windows operating system, Windows 8.1. Chief Executive Steve Ballmer reported that his company has adopted a new "rapid release" attitude to bringing out new versions of Windows to appeal more effectively to developers. Microsoft supplied developers with an early release version of Windows 8.1, and said again that a free upgrade for consumers who have purchased Windows 8 will be available later in 2013. The analyst Brad Reback at Stifel Nicolaus has called Windows 8.1 "a step in the right direction," and that its release indicates the company can make innovations at a faster rate than it has done previously.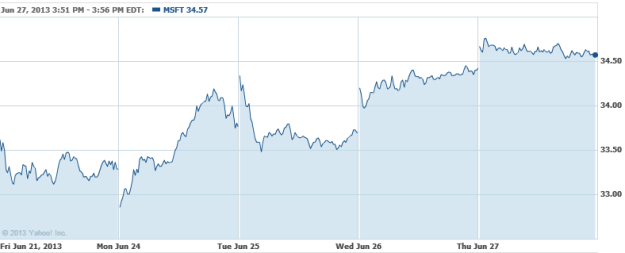 Sirius XM Radio (NASDAQ:SIRI): Current price $3.41
Sirius shares have been moving up for years, and it is apparent that one investor believes that it is a safe proposition in the long term. OptionMONSTER's tracking programs have detected the sale of 85,000 January 2015 2 puts for 14 cents, marking the biggest trade in any instrument aside from the volatility index in the entire session on Wednesday. The put seller must now buy shares in the company for $2 if they are under that level upon expiration 18 months hence. In exchange for making that pledge, he or she collected the credit of 14 cents.

The Charles Schwab Corporation (NYSE:SCHW): Current price $21
An arbitration panel has ordered that the former financial planner Matthew Weitzman, who is presently serving an eight-year prison sentence for stealing from clients, must pay Charles Schwab Corp $2.75 million. The case arose with a claim against Schwab brought by the father-in-law of Weitzman, who was a former principal at AFW Asset Management. The father-in-law Burton Langer accused Schwab of unauthorized transfers of securities, and sought damages of $8.4 million, along with interest and attorneys' fees from the firm, and also from the Weitzmans, as third-party respondents in the arbitration claim.