Microsoft's Xbox One Launch and Lockheed's Big Jet Deal
Microsoft Corp. (NASDAQ:MSFT): Microsoft's Xbox One hit the markets on Friday to great fanfare, as people lined up across a dozen countries to snag the new device. Sony's PlayStation 4 — which starts $100 lower than the Xbox, at $399 — sold 1 million units in its first 24 hours; GameStop and Best Buy have already sold out of PS4s, while the former says some 2.3 million people are waiting on a new game console.

Lockheed Martin Corp. (NYSE:LMT): South Korea has agreed to purchase 40 of Lockheed Martin's F-35 fighter jets after the country's government decided to go for the more expensive aircraft that have greater stealth capabilities to suit the country's needs to defend itself against North Korea's nuclear threat. South Korea is slated to sign the 8.3 trillion won ($7.8 billion) contract in 2014 and take delivery of the planes in 2018; the country may consider an order of another 20 jets.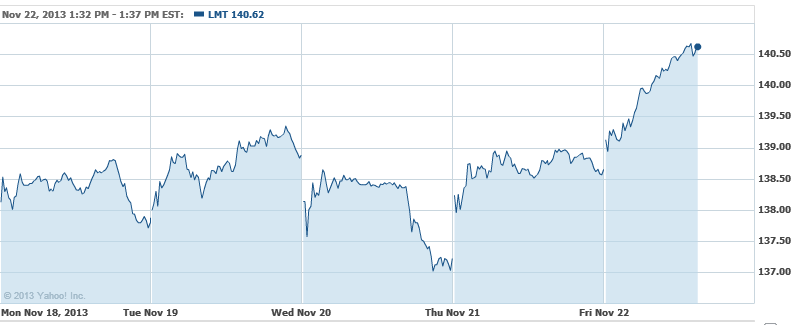 Biogen Idec Inc. (NASDAQ:BIIB): Biogen has won a new active substance designation for its Tecfidera treatment, nearly guaranteeing a launch in the European Union, which wasn't assured without the measure. With that overhang out of the way, Biogen's shares are up nearly 14 percent, as it also means that generic competition will be held off.
GameStop Inc. (NYSE:GME): GameStop shares are rising after Thursday's earnings report. Needham sticks a Buy rating on GameStop, up from Hold, based on a valuation call after shares tanked. Seeking Alpha notes that channel checks might be crucial after the video game chain posted a comparable store sales growth estimate that straddles 2 percent to 9 percent.
Chevron Corp. (NYSE:CVX): Chevron has suspended its $10 billion investment headed for the Rosenbank oil project, which is set to become one of the largest new prospects in the U.K. North Sea. Chevron says that it isn't economically viable to proceed due to rising costs in the sector; were the project not to happen, it could have profound economic effects on the U.K., which partially relies on tax revenues from domestic oil and gas production.

Don't Miss: Google Adds HBO Go to Its Chromecast Playlist.