Millicom Earnings Cheat Sheet: Profit Pops 48% As Revenues Climb 19.5%
The combination of lower costs and higher revenue pushed Millicom International Cellular S.A. (NASDAQ:MICC) to a higher profit first quarter. Millicom International Cellular SA is a global mobile telecommunications operator with operations in some of the world's emerging markets over which it's generally exercise management and voting control.
Don't Miss: Wall St. Cheat Sheet's newest Feature Trades of the Month>>
Millicom International Cellular Earnings Cheat Sheet for the First Quarter
Results: Net income for Millicom International Cellular S.A. rose to $230.1 million ($2.17/share) vs. $155.5 million ($1.43/share) YoY. A rise of 48% from the year earlier quarter.
Revenue: Rose 19.5% to $1.08 billion YoY.
Quoting Management: Mikael Grahne, President and CEO of Millicom, commented: "Our strong performance in Q1 confirms our value creation strategy and its effective implementation in our markets. Local currency revenues increased by 12.7% year on year, which is the highest quarterly top line growth rate Millicom has reported since 2008. We are especially pleased to see double-digit growth in Latin America as a whole and 5% growth in Central America, proving that our most highly penetrated markets can still enjoy good growth."
Key Stats: Net income has increased more than twofold year over year on average across the last five quarters. The biggest gain came in the third quarter of the last fiscal year, when income climbed 744.7% from the year earlier quarter.
Competitors to Watch: America Movil S.A.B. de C.V. (NYSE:AMX), Telefonica, S.A. (NYSE:TEF), Vivo (NYSE:VIV), TIM (NYSE:TSU), NII Holdings (NASDAQ:NIHD), Telecom Argentina (NYSE:TEO), Rogers Communication (NYSE:RCI), Hutchison Telecom (HTX), Portugal Telecom (NYSE:PT), and Vodafone Group plc (NASDAQ:VOD). Other companies in their group are Sprint (NYSE:S), Verizon (NYSE:VZ), AT&T (NYSE:T) and MetroPCS (NYSE:PCS).
Today's Performance: Shares of MICC are up close to 6% in pre-market trading. The stock closed yesterday at $94.92 per share: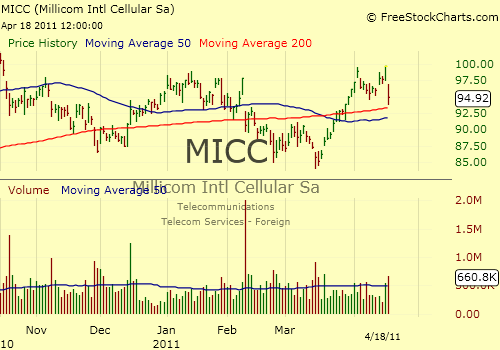 Don't Miss Wall St. Cheat Sheet's newest Feature Trades of the Month!