Mohawk Industries Earnings: Revenue Comes in Lower than Last Year
Falling revenue did not prevent Mohawk Industries Inc. (NASDAQ:MHK) from reporting a profit boost in the first quarter. Mohawk Industries, Inc. is a producer of floor covering products for residential and commercial applications in the United States and residential applications in Europe.
Don't Miss: Wall St. Cheat Sheet's newest Feature Trades of the Month!
Mohawk Industries Earnings Cheat Sheet for the First Quarter
Results: Net income for Mohawk Industries Inc. rose to $23.4 million (34 cents/share) vs. $20.5 million (30 cents/share) in the same quarter a year earlier. A rise of 14.1% from the year earlier quarter.
Revenue: Fell 0.3% to $1.34 billion YoY.
Actual vs. Wall St. Expectations: MHK reported adjusted net income of of 42 cents/share. By that measure, the company fell in line with the mean estimate of 42 cents/share. Estimates ranged from 39 cents per share to 56 cents per share.
Quoting Management: Commenting on the first quarter results, Jeffrey S. Lorberbaum, Chairman and CEO stated, "We grew our operating margin to 4.7% excluding restructuring charges, an improvement of approximately 40 basis points over the first quarter last year by continuing to drive cost reductions, manufacturing improvements and efficiency gains throughout the enterprise. Sales reported during the period were flat with last year with the outlook strengthening for the balance of the year. In the U.S., both remodeling and home sales are expected to improve over last year, and non-residential investment is estimated to increase over 8% in 2011."
Key Stats:
Last quarter marked the fifth consecutive quarter of gross margins expanding as the company's gross margin expanded 0.1 percentage point to 25.4% from the year earlier quarter. Over that span, margins have grown on average 3.1 percentage points per quarter on a year-over-year basis.
Over the last five quarters, revenue has fallen an average of 0.2% year over year. The biggest drop came in the fourth quarter of the last fiscal year, when revenue fell 6.3% from the year earlier quarter.
Competitors to Watch: Interface, Inc. (NASDAQ:IFSIA), The Dixie Group, Inc. (NASDAQ:DXYN), Victoria PLC (VCP), Airea Plc (AIEA), Gaskell PLC (GKLL), Oriental Weavers Carpet Co. (ORWE), Paragon Union Berhad (PARAGON), and Carmel Holdings (I.L) Ltd. (CRHO)
Stock Performance: Shares of MHK are down 0.48% from the previous closing price of $61.75.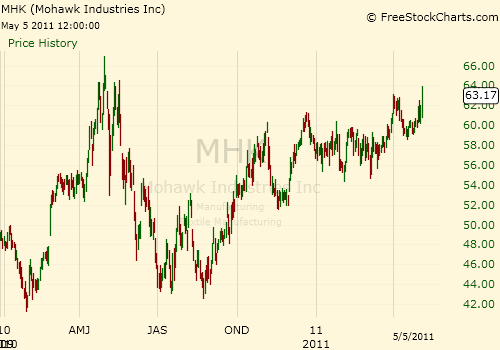 Don't Miss Wall St. Cheat Sheet's newest Feature Trades of the Month!