Molycorp, Inc. Earnings Cheat Sheet: Loss Narrows But Misses Expectations
Molycorp, Inc. (NASDAQ:MCP) reported its results for the first quarter. Molycorp, Inc. is a rare earth oxide producer in the Western Hemisphere. The Company owns fully developed rare earth project outside of China. It is a development stage company.
Don't Miss: Wall St. Cheat Sheet's newest Feature Trades of the Month!
Molycorp Earnings Cheat Sheet for the First Quarter
Results: Loss narrowed to $909,000 (loss of 3 cents/diluted share) from $7.7 million (loss of 16 cents/share) in the same quarter a year earlier.
Revenue: Rose 796.2% to $26.2 million YoY.
Actual vs. Wall St. Expectations: MCP reported adjusted net income of of one cent/share. By that measure, the company fell short of mean estimate of 10 cents/share. Estimates ranged from a loss of 4 cents per share to a profit of 30 cents per share.
Quoting Management: "We were very pleased to see both sales volume and revenue increase for Molycorp in the first quarter of 2011, as this quarter is typically characterized by slow buying and depressed activity in China due to its New Year celebrations," said Mark Smith, Molycorp President and Chief Executive Officer. "In spite of this, and in spite of the natural catastrophes experienced by Japan in the first quarter, we continued to see strong global demand for our products. Market prices of REOs rose significantly in the first quarter, helping to boost our price realizations."
Key Stats: From the fourth quarter of the last fiscal year, the company's current liabilities rose to $39.7 million from $20.7 million.
Competitors to Watch: Avalon Rare Metals Inc (AMEX:AVL), Thompson Creek Metals Co., Inc. (NYSE:TC), Freeport-McMoRan Copper & Gold Inc. (NYSE:FCX), 3M Company (NYSE:MMM), PolyMet Mining Corp. (AMEX:PLM), General Moly, Inc. (AMEX:GMO), Karat Platinum Inc. (KRAT), TapSlide, Inc. (TSLI), Denia Enterprises Inc (DNIA), and Thompson Creek Metals Co., Inc. (NYSE:TCM)
Stock Performance: Shares of MCP are down this morning 4.17% to $63.70 per share from the previous close of $66.47.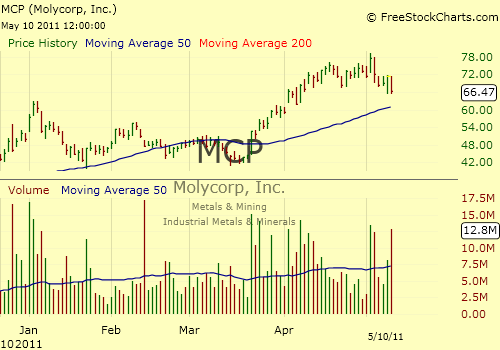 Don't Miss Wall St. Cheat Sheet's newest Feature Trades of the Month!