Monday Morning Cheat Sheet: 3 Stories Moving Markets
Major markets closed up in Asia on Monday. Japan's Nikkei remained closed for a holiday while the yen weakened slightly to trade at 99.2480 to the dollar. The Hang Seng climbed 0.99 percent to 22,915.10, while the S&P/ASX 200 climbed 0.52 percent to 5,16.20. The Nikkei will open Tuesday after having logged its longest losing streak since November last week.
Markets were quiet in Europe as the United Kingdom enjoyed a public holiday. In mid-day trading, Germany's DAX was off 0.14 percent, while the STOXX 40 was off 0.57 percent. European markets remain within striking distance of record highs, and have recently echoed much of the enthusiasm that investors have for U.S. equities, despite shaky economic conditions.
U.S. futures at 8:35 a.m.: DJIA: -0.01%, S&P 500: -0.01%, NASDAQ: +0.07%.
Here are three stories to keep an eye on:
1) European Economic Backdrop Darkens: Overall economic output in the eurozone declined for the fifteenth consecutive month in April, according to the final Eurozone Composite Output Index compiled by Markit. The final reading of 46.9 was just slightly better than March's 46.5, and indicates that the region remains mired in economic contraction.
What's more, Germany's all-sector output PMI fell to 49.2, a five-month low and a level that places its economic activity in contraction alongside France, Italy, and Spain. Chris Williamson, chief economist at Markit, commented that "the eurozone's economic downturn is likely to have gathered momentum again in the second quarter."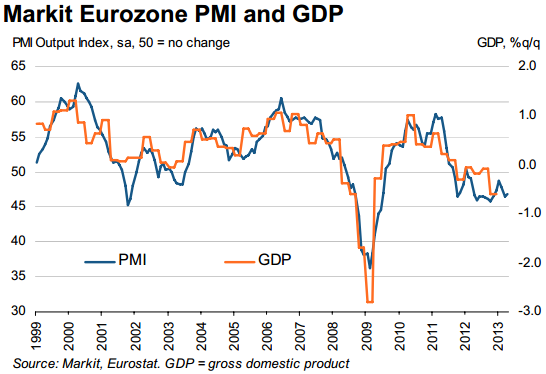 2) Time To Take a Breather? With some major markets on holiday and few economic indicators to guide trading behavior, Monday could be a quiet day on the U.S. markets. Many analysts have indicated that a correction of some magnitude could be in order, as generally underwhelming economic indicators have underpinned recent market rallies.
Out of the 404 companies in the S&P 500 that have reported earnings so far, 68.3 percent of them have beaten earnings expectations and 46.3 percent have beat revenue expectations. The average beat rates over the past four quarters is 67 percent on earnings and 52 percent on revenue.
3) Euro Zone Retail Trade Volume Declines: Investors can use retail sales as a proxy for consumer demand, which in turn is one of the most important contributors to GDP growth. With this in mind, Eurostat reports that the volume of retail trade fell by 0.1 percent on the month in the EA17 and by 0.2 percent on the month in the EU27. On the year, the retail sales index is down by 2.5 percent in the EA17 and by 1.6 percent in the EU27.
Don't Miss: Is It Time To Be a Brave Investor?