Monday Morning Cheat Sheet: 3 Stories Moving Markets
A relatively weak manufacturing report out of China helped drag Asian markets lower on Monday. Japan's Nikkei index, still sensitive to changing monetary policy and investor sentiment, fell 3.72 percent. In Hong Kong, the Hang Seng declined 0.49 percent, while the S&P/ASX 200 declined 0.78 percent in Australia.
Markets were mixed in Europe in mid-day trading, following a battery of manufacturing reports from the region. Germany's DAX was up 0.34 percent, London's FTSE 100 was off 0.25 percent, and the STOXX 50 index was up 0.25 percent.
U.S. stock futures at 8:35 a.m.: DJIA: +0.32%, S&P 500: +0.35%, NASDAQ: +0.33%.
Here are three stories to keep an eye on:
1) Euro Zone Manufacturing Posts Best Month in Over a Year: The reading of the Markit Final Eurozone Manufacturing PMI for May came in at 48.3, above the flash reading of 47.8, and the strongest reading in 15 months. The results reflect an easing in the downturn that has gripped Europe since the crisis began, but conditions still remain in contraction. Deflationary pressures are still a concern with input costs and output prices both declining.
"Despite the final PMI coming in above the flash reading, the surveys still suggest that GDP is likely to have fallen 0.2 percent in the second quarter, extending the region's recession into a seventh successive quarter," commented Markit Chief Economist Chris Williamson.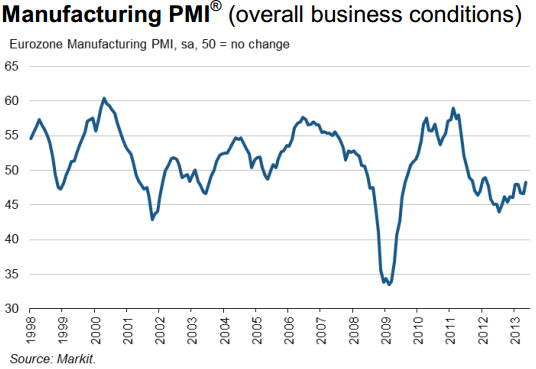 2) Manufacturing Activity in China Contracts: The HSBC China Manufacturing PMI decreased from 50.4 in April to 49.2 in May, the first contraction in manufacturing in seven months.
Hongbin Qu, Chief Economist, China & Co-Head of Asian Economic Research at HSBC commented: "The downward revision of the final HSBC China Manufacturing PMI suggests a marginal weakening of manufacturing activities towards the end of May, thanks to deteriorating domestic demand conditions. With persisting external headwinds, Beijing needs to boost domestic demand to avoid a further deceleration of manufacturing output growth and its negative impact on the labour market. The new leaders should strike a delicate balance between reform and growth."
3) OECD Economic Outlook: The global economy is moving forward, but at a fractured pace. Among developed economies, growth in Europe remains painfully slow (0.6 percent GDP contraction in 2013), and the region is seen by many to be the biggest liability to the recovery. In the United States, GDP is expected to grow at just 1.9 percent in 2013 and 2.8 percent in 2014. The OECD indicates that historically high unemployment is the biggest challenge facing struggling economies.
Don't Miss: Smaller Banks Slow to Recover.