Monday Morning Cheat Sheet: 3 Stories Moving Markets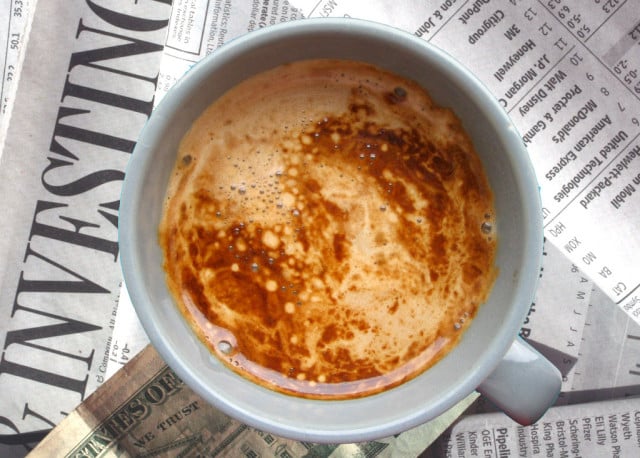 Markets declined in Asia on Monday. Japan's Nikkei index closed the session down 1.4 percent with the yen trading at 101.1455 to the dollar. Relatively strong U.S. economic data released on Friday helped fuel early gains, but traders seemed keen on taking profits after the market hit a six-week high. In Hong Kong, the Hang Seng declined 1.31 percent, while the S&P/ASX 200 declined 0.67 percent in Australia.
European markets advanced in midday trading. Germany's DAX was up 2.43 percent, London's FTSE 100 was up 1 percent, and the STOXX 50 index was up 2.28 percent. Traders seem generally optimistic heading into earnings season.
At 8:40 a.m.: DJIA: +0.46%, S&P 500: +0.55%, NASDAQ: +0.61%.
1) Transatlantic Trade Talks Finally Begin: It seems to be the thing that everybody wants done but nobody wants to work on. The idea of a free-trade agreement between the United States and the European Union was floated nearly twenty years ago by former EU Trade Commissioner Leon Brittan, but only now is material progress being made. Assistant U.S. Trade Representative Dan Mullaney and Director in DG Trade for the European Commission Ignacio Garcia Bercero will sit down this week to begin organizing negotiations.
If the proposed Transatlantic Trade and Investment Partnership deal is reached, it would be the world's largest free-trade pact. Last year, two-way trade between the U.S. and EU totaled nearly $646 billion, covering about 50 percent of the world's economic output, 30 percent of global trade, and 20 percent of global foreign direct investment. Estimates from London's Centre for Economic Policy Research suggest that a deal could boost U.S. and EU economic growth by more than $100 billion per year.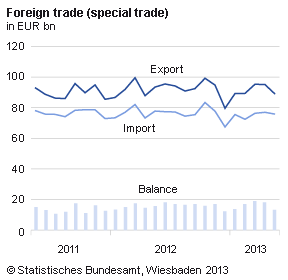 2) German Economic Indicators: European stocks may be advancing on Monday, but it's probably not because of strong data out of Germany. Exports fell 4.8 percent on the year in May, according to data released by the Destatis, Germany's Federal Statistical Office. The overall seasonally-adjusted trade surplus narrowed more than expected, from 17.5 billion euros ($22.5 billion) in April to 14.1 billion euros ($18.1 billion) in May. This compares against an expected narrowing to just 17 billion euros ($21.8 billion).
German industrial production also came in below expectations. Month-over-month and year-over-year output both fell 1 percent in May, which is surprisingly steep even given expectations for a 0.5 percent contraction. There is some consolation in April's upwardly revised growth — from 1.8 to 2.0 percent on the month — but a slide in capital goods orders in may suggests some slowing of business activity.
Shipments from Germany to the rest of the EU fell by 9.6 percent, reflecting underwhelming demand from the region that is symptomatic of its still-struggling economy. Trade with the rest of the EU accounts for about 40 percent of German shipments.
3) Greece is in the Hot Seat: The so-called "troika" of lenders comprising the International Monetary Fund, EU, and European Central Bank tried to be polite in its frustration with Greece in a statement today, saying, "While important progress continues to be made, policy implementation is behind in some areas."
Greece agreed to a series of reforms during the euro crisis as conditions of its bailout, though progress has been slow to the point of non-existence. Officials have repeated the mantra that the nation is on track to deliver on fiscal targets for 2013 and 2014, and achieve a primary budget balance by this time next year, but creditors are skeptical. "The outlook remains uncertain" seems to be the new saying of choice.
The statement reads: "With the recapitalisation of the banking sector nearly complete, the authorities have committed to further steps to safeguard financial stability, including through the sale of two bridge banks and completion of their strategy for a four-pillar banking system. These reforms are a further important step towards facilitating adjustment and enabling growth. The mission also discussed with the authorities progress in strengthening the social safety net, including through targeted employment and training programmes supported by the EU and a programme to provide access to primary health care for the uninsured."
You can follow Dan on Twitter @WscsDan