Monday Morning Cheat Sheet: 3 Stories Moving Markets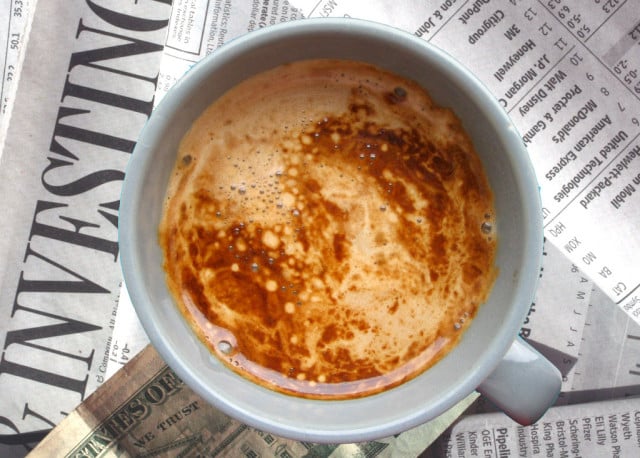 Markets were mixed in Asia on Monday. Japan's Nikkei index declined 1.44 percent to 14,258 as traders took profits after last week's mixed economic data. Exporters were hit particularly hard as the yen strengthened to 98.53 against the dollar. In Hong Kong, the Hang Seng edged up 0.14 percent to 22,222, and in Australia, the S&P/ASX 200 declined 0.11 percent to 5,111.25.
European markets were also mixed in midday trading following an upbeat but still somewhat underwhelming composite PMI report. Germany's DAX was off 0.02 percent, London's FTSE 100 was off 0.17 percent, and the STOXX 50 index was up 0.05 percent. U.S. stock futures edged lower ahead of the opening bell in New York.
At 8:40 a.m.: DJIA: -0.11%, S&P 500: -0.13%, NASDAQ: -0.04%
Here are three stories to keep an eye on.
1. U.S. Consumer Spending: Self-reported spending was flat in July compared with June, according to Gallup's most recent report. Consumers reported spending an average of $89 per day in July, down just slightly from $90 per day in June, and flat with May. Among those earning more than $90,000 per year, average daily spending was $158 in July, up from $143 in June. Among those earning less than $90,000, average daily spending was $78, up from $77 in June.
Flatness in consumer spending data is unsurprising given ongoing softness in the U.S. labor market and in overall economic activity. Jobs data released last week show relatively healthy payroll growth and a reduction in the headline unemployment rate, but the number of long-term unemployed remained effectively flat.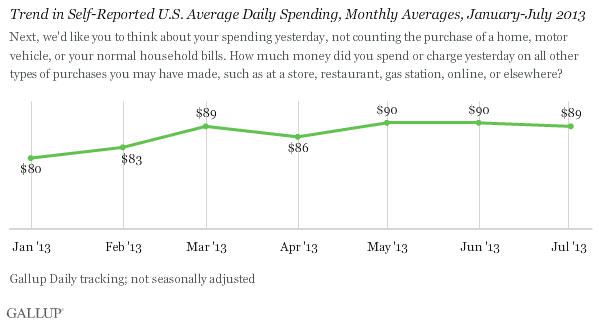 2. European Economy: Markit's Eurozone Composite PMI for July came in at 50.5, its first positive reading in nearly a year and a half. The composite index is up from 48.7 in June, while the Services Business Index, which excludes manufacturing, climbed from 48.3 to 49.8. This indicates that while the services sector is healing, it has not quite entered growth territory yet. Growth in composite output was led by manufacturing, which an earlier report showed was at a two-year high of 50.3 in July.
"The final Output Index reading of 50.5 confirms a welcome return to growth for the Eurozone economy at the start of the third quarter, raising hopes that the region can finally claw its way out of its longest-running recession," Markit senior economist Rob Dobson said in a press release. "Granted, the euro area has experienced false dawns before, but the improvements in confidence and other forward-looking indicators warrant at least some optimism for the outlook this time around."
3. Why is Harry Reid Supporting Warren Buffett's Energy Bid? While it would seem unlikely that anyone needs to help Warren Buffett, Senate Majority Leader Harry Reid (D-Nev.) has been offering the Oracle of Omaha a hand in the purchase of NV Energy (NYSE:NVE). MidAmerican Energy Holding Co., a Berkshire Hathaway company, would become the largest utility company in the U.S. if the sale went through, according to Energy and Environment Daily. Reid's motivations appear to be twofold.
Reid has been in the news several times this year for his support of the MidAmerican buy. On July 23, the Senate Majority Leader sent a letter to the Federal Energy Regulation Commission maintaining his support. Reid framed the deal as both good for the environment (greener energy sources) and good for his state's overall economy… (Read more.)
Don't Miss: If You Live With Your Parents, You Might Be a Millennial.