Monday Morning Cheat Sheet: 3 Stories Moving Markets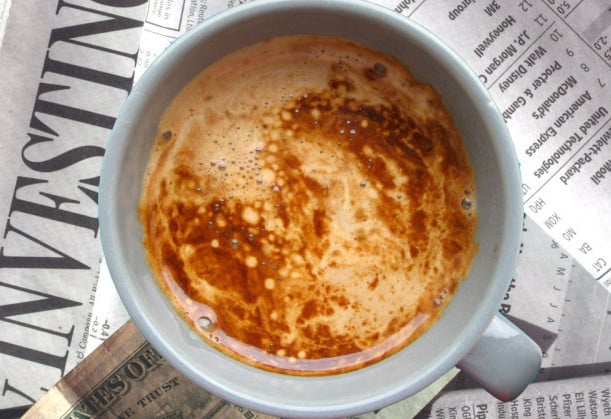 It's Monday, October 21, and earnings season is in full swing. With corporate profits dominating the headlines and the recent fiscal-political snafu taking a seat on the back burner, the market is finally free to take some time and smell what's cooking — and so far, everything appears fine.
Most major corporations that have reported third-quarter earnings so far have beat analyst estimates, perhaps most notably Google Inc. (NASDAQ:GOOG), which beat by 40 cents per share. McDonald's Corp. (NYSE:MCD) and Halliburton Co. (NYSE:HAL), which reported earnings Monday morning, each beat by 1 cent per share.
More good news came with the Chicago Fed National Activity Index, which increased to +0.14 in August from -0.43 in July. The three-month average climbed back to -0.18 after declining over the past several months. The CFNAI is a weighted average of 85 economic indicators ranging from production, income, employment, consumption, housing, and inventories, and it offers a broad perspective on whether the economy is performing up to its potential. There is a close relationship between this index and gross domestic product.
U.S. equities edged higher in premarket trading. At 8:35 a.m., Dow futures were up 0.02 percent, S&P 500 futures were up 0.1 percent, and Nasdaq futures were up 0.28 percent.
Most major equity markets in Asia closed up on Monday. In Japan, the Nikkei climbed 0.91 percent to 14,693.57, and the yen weakened slightly, to 98.1950 against the dollar. In Hong Kong, the Hang Seng climbed 0.42 percent to 23,438.15, and in Shanghai, the SE Composite climbed 1.62 percent to 2,229.24. In India, the Mumbai Sensex climbed 0.05 percent to 20,893.89. In Australia, the ASX All Ordinaries climbed 0.57 percent to 5,351.50.
In Japan, the All Industries Index — a measure of activity in the service, construction, agricultural, and industrial sectors, as well as in the public sector — increased by 0.3 percent on the month and 1.4 percent on the year in August. This follows a 1.3 percent annual increase in July. At 97.6, the index is still below its 2005 average of 100.
Like the CFNAI, the All Industries Index is a broad measure of economic activity and can be used as a rough proxy for GDP.
European equities were mixed in midday trading. In the U.K., the FTSE 100 was up 0.13 percent; in Germany, the DAX was off 0.09 percent; in France, the CAC 40 was off 0.39 percent; and the Euronext 100 index was off 0.11 percent.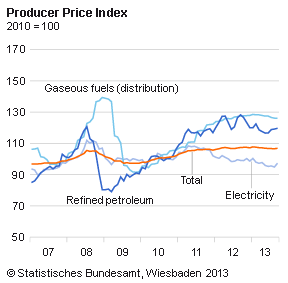 In Germany, the Federal Statistics Office reported that its index for producer prices fell 0.5 percent on the year in September. The agency reports that while "prices of consumer non-durable goods increased by 2.1% prices of intermediate goods were 2.0% low and energy 1.4% low compared with September 2012. In August 2013 the annual rate of change all over was -0.5%, too."
On the month, producer prices increased 0.3 percent, their first advance since January and ahead of expectations for a 0.1 percent increase. The advance was mostly due to an increase in energy prices.
The PPI interprets price changes from the perspective of the seller and can be used as a leading indicator of inflation because it measures input price pressure. Price increases at any stage of production can sometimes be passed down the line and could ultimately reach the consumer, as reflected in the consumer price index and the index for personal consumption expenditures.
Don't Miss: Are Markets Headed for a Year-End Rally?