Monday's Mid-Day Movers: 3 Stories Driving Markets
The U.S. equity markets partied hard on Friday and paid for it on Monday. At mid-day, the Dow was back below 14,000 and the S&P was back below 1,500 as economic headwinds brewed up some dark clouds.
At 1:15 p.m.: DJIA: -0.80%, S&P 500: -0.93%, NASDAQ: -1.15%.
Here are three stories helping move markets on Monday afternoon:
1) Considering the strong start to the year for equities, Ben Bernanke's smile must be getting as big as the U.S. Federal Reserve's balance sheet. The Fed Chairman is on record defending the wealth effect, which involves forcing investors into equities by punishing them through record low interest rates and quantitative easing. After an early lackluster reception from the latest QE announcements, Mr. Market is feeling quite optimistic these days… (Read more.)
2) This week, Spanish Prime Minister Mariano Rajoy, who instituted the harshest austerity measures in the country's democratic history in order to curb the deficit and ensure international support for its collapsing financial industry, was accused of accepting and distributing illegal payments to party members.
The market response to the allegations was immediate and obvious. The yield on the 10-year Spanish bond shot up 22 basis points to 5.43 percent as uncertainty brewed. Spain's IBEX 35 fell as much as 3.1 percent and the European markets all headed to close dramatically lower… (Read more.)
3) New orders for manufactured goods — both durable and non-durable — increased 1.8 percent in December to $484.8 billion, according to the U.S. Census Bureau. December's official manufacturing report came in below expectations for 2.4 percent growth in new orders, but is still a positive indicator following November's 0.3 percent decrease.
The increase in new orders was led by an 11.7 percent pop in orders for transportation equipment. This surge followed two consecutive months of decline, which is indicative of the seasonal nature of sales of transportation goods. Because of this seasonality, transportation goods are often factored out of new orders results. December's reading without transportation goods shows just 0.2 percent growth… (Read more.)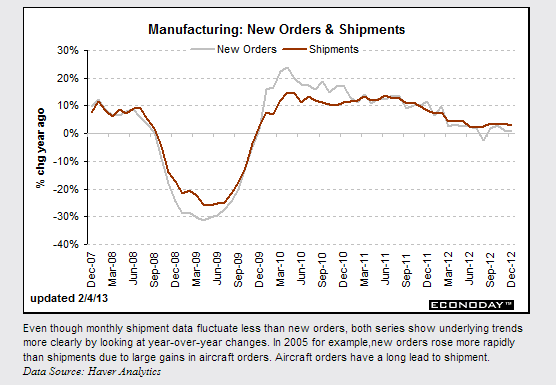 Don't Miss: Is Main Street Smiling With Ben Bernanke?