Monday's Midday Movers: 3 Stories Driving Markets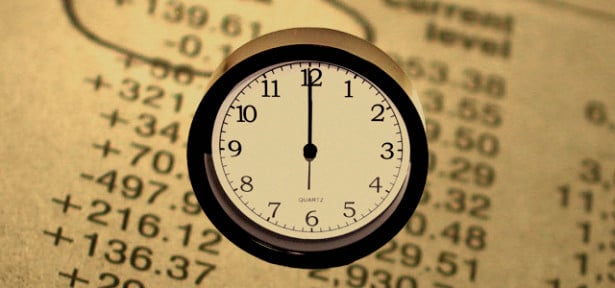 The major U.S. markets were falling on Monday as major corporations released disappointing earnings. As of noon:
DIJA:

-0.09%

to 15,556.44
S&P 500:

+0.03%

to 1,760.35
NASDAQ:

-0.3%

to 3,931.56
Gold:

+1.47%

to 77.86
Oil:

+0.47%

to 23.28
U.S. 10-Year:

+0.08%

to 25.05
Here are three stories helping shape the market Monday afternoon.
1. Is the Real Estate Market Receiving a Course Correction? Due to higher home prices and interest rates, pending home sales across the country continue to retreat from multiyear highs. The Pending Home Sales Index, a forward-looking indicator based on contract signings, plunged 5.6 percent to 101.6 in September compared to a downwardly revised 107.6 in August, according to the National Association of Realtors.
After posting its strongest pace since 2006 in May, the index has now declined for four consecutive months to reach its worst level since December 2012. Economists expected the index to remain mostly unchanged… (Read more.)
2. Here's Why Fed Nominee Yellen Is So Swamped: Janet Yellen's schedule has been flooded with appointments as members of the Senate Banking Committee begin to set up meetings. Yellen's nomination for chair of the Federal Reserve was announced on October 9 by President Barack Obama. She will be replacing Ben Bernanke in the position — his term will be finished on January 31.
According to The Wall Street Journal, it is customary for the nominee to meet with senators before the necessary Senate confirmation hearing can take place. This allows them an opportunity for private conversation with the nominee. At present, Yellen's confirmation has not been scheduled, but it would seem these meetings are now being organized… (Read more.)
3. 6 States Hit the Hardest by the Government Shutdown: The government shutdown was hard on the economy as a whole, but some states took a bigger hit from Congress's spending bill and debt ceiling standoff over Obamacare. According to Stateline, a study done by Moody's Analytics has placed six states in positions with the highest difficulty.
Steven G. Cochrane, the managing director of Moody's, said the U.S. economy will probably be back on track by 2014 due to the bipartisan deal from Congress that reopened the government. Until then, New Mexico, Alabama, Washington, D.C., Maryland, Virginia, and West Virginia are feeling a little rough… (Read more.)
Don't Miss: 6 States Hit the Hardest By Government Shutdown.