Monday's Midday Movers: 3 Stories Driving Markets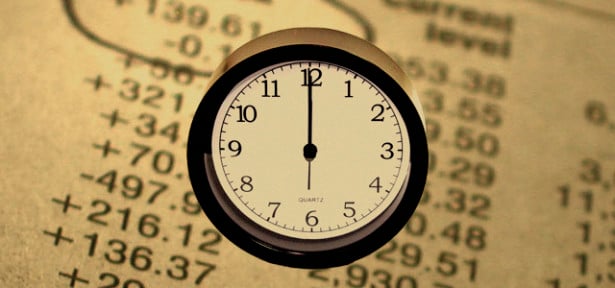 The major U.S. markets were wavering on Monday as investors awaited earning reports from major retailers. As of noon:
DIJA:

+0.14%

to 15,784.48
S&P 500:

+0.07%

to 1,771.88
Nasdaq:

-0.03%

to 3,918.14
Gold:

-2.24%

to 74.96
Oil:

+0.99%

to 22.451
U.S. 10-Year:

+0.18%

to 27.51
Here are three stories helping shape the market Monday afternoon.
1. Here's How the Market Avoided a Bloody October: In the movie The Hunt for Red October, Sean Connery plays Marko Ramius, a Soviet Union submarine commander who wants to defect to the United States. Jack Ryan, played by Alec Baldwin, plays a CIA analyst who attempts to prevent Ramius's stealthy submarine from attacking American soil.
October has historically been viewed as a bloody period in the stock market, given the multiple October crashes occurring in 1929, 1987, and 2008. However, the large number of bears and skeptics who were on a hunt for red (losing) October were rudely surprised last month. Rather than plunging in value, stocks ascended to new record green heights. Specifically, the S&P 500 index rose +4.5 percent in October, bringing 2013′s total climb to +23.2 percent. [The Nasdaq is +29.8 percent for the year.]… (Read more.)
2. Here's Why Ted Cruz Is Not Your Average Republican: Sen. Ted Cruz is well-known as a controversial figure in Washington, and it's not just the Democrats that have trouble with him. According to Bloomberg, it's likely his independent source of campaign funding that lends him the confidence to show party disloyalty.
"He has an independent source of money and direct access to the media, and that makes him very hard to control. It gives him power for himself but not collectively and represents the rise of extreme individualism," said James Thurber, a professor at American University, to Bloomberg. The senator's rhetoric suggests that he doesn't feel too much dependence on the Republican Party — and during the government shutdown that became abundantly clear, with many speculating that he did dangerous damage to the GOP's public standing… (Read more.)
3. Which Is Better: Affordable Care Act or Sequester? With Republicans and Democrats constantly at odds and fighting for credit, it only makes sense to pit the sequester and the Affordable Care Act against each other and see which wins out in terms of savings — and that's just what the Washington Post has done in investigating the validity of a recent claim.
"If you look at the biggest thing that is cutting our deficit over the medium and long run, it's actually the Affordable Care Act, which is, you know, by bringing down the cost of health care, that doesn't just help our economy, it helps bring our deficit down," said Jason Furman, the chair of the White House Council of Economics… (Read more.)
Don't Miss: Which Is Better: Affordable Care Act or Sequester?