Monday's Midday Movers: 3 Stories Driving Markets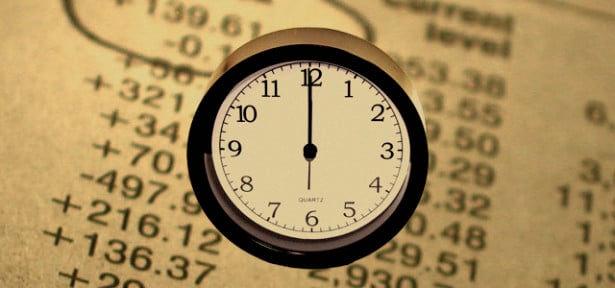 The major U.S. stocks were gaining Monday thanks to an optimistic report from China regarding increased exports. As of noon:
DIJA:

+0.64%

to 15,018.71
S&P 500:

+0.60%

to 1,665.06
NASDAQ:

+0.82%

to 3,690.15
Gold:

-1.72%

to 76.56
Oil:

-0.65%

to 25.91
U.S. 10-Year:

-1.97%

to 28.80
Here are three stories helping shape the market Monday afternoon.
1. Here Comes the September Market Uncertainty: The Dow Jones Industrial Average got whipsawed on Friday over Syrian concerns and uncertainty about the Federal Reserve. However, the small loss came after an extremely volatile day, as the index opened higher then fell nearly 150 points midday and climbed for solid gains, only to end the day slightly in the red. The high-to-low swing for the day was a wild 220 points.
Fundamental causes for the exciting ride were accredited to the saber rattling by President Barack Obama and Russian President Vladimir Putin over Syria and Friday's nonfarm payrolls report, which was weaker than expected. Global markets don't like the prospect of higher oil prices and war, while they do seem excited about new doubt surrounding the Federal Reserve's plans for quantitative easing… (Read more.)
2. Here's How Obamacare Just Got Easier for Employers: Before it was postponed, businesses complained long and loudly about the burdens of the Affordable Care Act's requirement that they report employees' health coverage information. Among business and labor experts, the worry was the companies would shrink their workforces and cut employee hours in order to work around that provision.
As originally written, health care reform mandated that businesses with 50 or more full-time employees provide those workers with a minimum level of health insurance coverage or face tax penalties of as much as $3,000 per full-time employee, excluding the first 30, beginning in 2014. For the federal government to know which companies had failed to provide coverage and how much those companies should be fined, a great deal of information must be transferred from business and workers to a number of government agencies… (Read more.)
3. Survey: EU Sentiment Turns Positive Again: Investor sentiment in the eurozone soared during August according to a report by Sentix, Reuters reports.
For the first time since mid-2011, the index ended in the positive for eurozone countries, jumping by more than 11 points to finish at +6.5. This outpaced the predictions of most economists, who forecast a modest jump from the -4.9 value for July to around -2 for the subsequent month. Expectations of future economic performance in the months to come also jumped, continuing gains that were made in June and August… (Read more.)
Don't Miss: The End of Quantitative Easing May Be in Sight for England.