Mondelez Reports Nelson Peltz Stake and 2 More Heavily Traded Stocks To Follow
Mondelez International (NASDAQ: MDLZ) Closing price $
A Friday regulatory filing shows that the activist investor Nelson Peltz has accumulated stakes in Mondelez, and also PepsiCo, worth in excess of $900 million, which news sending shares of both companies higher. The filing by Peltz's Trian Fund Management confirmed a newspaper report in March which reported that Trian had invested in both stocks, and in addition speculated that Peltz might push for a merger of the two.

Bank of America Corporation (NYSE:BAC): Current price $
American International Group (NYSE:AIG) has won its request to return its $10 billion lawsuit against BofA concerning mortgage securities to state court in New York. On Friday, a federal appeals court in Manhattan decided that the Edge Act, a 1919 law that regulates international banking, fails to give federal court jurisdiction over AIG's suit. The latter sued Bank of America in state court over losses it claimed on mortgage bond investments. For its part, Charlotte-based Bank of America had the case moved to federal court, where United States District Judge Barbara Jones denied AIG's request to return it to state court. However, the appeals court on Friday vacated Jones's ruling and returned the case to the district court.

BlackBerry (NASDAQ:BBRY) Closing price $
The firm's new operating system made its Canadian intro on February 5 with the Z10 full-touch model, and then made its American debut on the AT&T network on March 22, prior to the subsequent roll outs to Verizon and T-Mobile during the following weeks. Chitika Insights looked at tens of millions of United States and Canadian mobile ad impressions over the 65 days after the respective launches of the BlackBerry Z10 and Apple iPhone 5; the BlackBerry Z10's traffic comprised 5.3 percent of all BlackBerry traffic, versus the iPhone 5 reaching 12.1 percent of iPhone traffic at the same time, according to Chuck Jones at Forbes.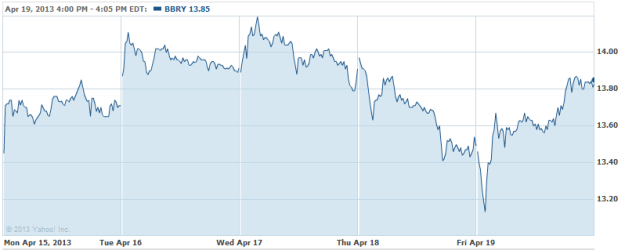 Investing Insights: Do These Factors Support Arena Pharmaceuticals?