Money Goals Hit Record High for New Year's Resolutions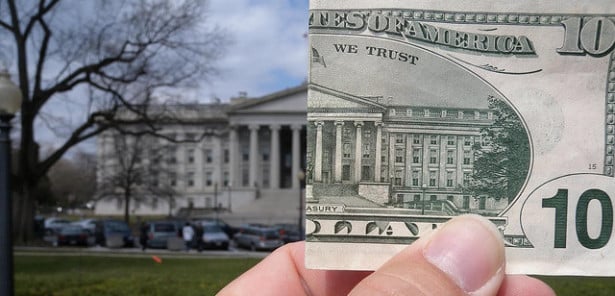 New Year's resolutions are not limited to eating healthier or getting more exercise. With memories and side effects of the Great Recession still impacting households across the nation, more Americans than ever are considering financial resolutions for the year ahead.
In addition to new all time highs for the stock market, a record number of people are focusing on short-term and long-term money goals. According to a new report from Fidelity, 54 percent of Americans are considering a financial resolution, up from 46 percent in the previous year. This reading has increased more than 50 percent since 2009, when only 35 percent of Americans said they typically consider financial resolutions.
"These findings suggest individuals are taking more control over financial matters, leading them to feel better about their personal situations, which is a great way to ring in the New Year," said Ken Hevert, vice president of retirement products, Fidelity Investments. "Making financial resolutions, such as saving more and paying off debt, can have a tremendous impact on the financial and emotional well-being of a household, so it's encouraging to see that so many Americans intend to build a stronger financial foundation in the year ahead."
Forty percent of respondents make resolutions as individuals, while 29 percent involve their spouses or significant others in the process. As the chart below shows, the top three resolutions for 2014 were unchanged for the third consecutive year. Saving more money led the way with 54 percent, followed by paying off debt and spending less money at 24 percent and 19 percent, respectively.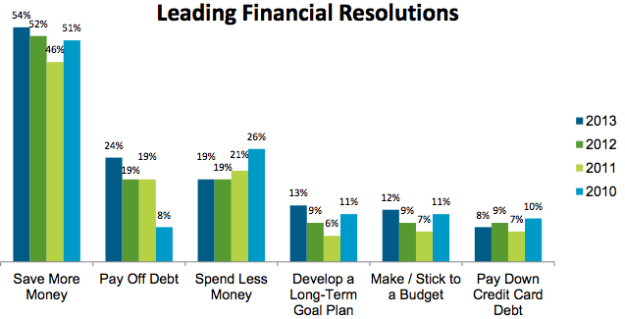 Among those who indicated "save more money" as one of their top three financial resolutions for 2014, the median annual amount respondents plan to save remains at $2,400, the same as the last two years, but twice the amount in 2010. Importantly, 62 percent say they have remained faithful to their resolutions in the past, which is an improvement from 58 percent in 2010.
Although Americans are increasing their short-term financial resolutions such as saving for an emergency fund or paying down debt, long-term goals remain the most popular, as 55 percent plan on saving for retirement. Saving for college and retiree healthcare costs come in at 35 percent and 28 percent, respectively.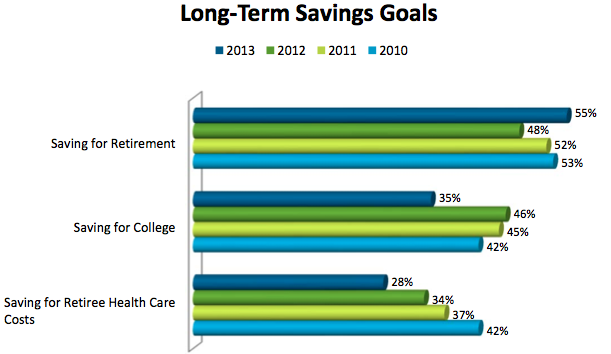 "The world has changed. Today, you have to save for retirement, you're probably saving for education, and you're probably in a position where with high-deductible health plans, you're probably saving for healthcare too," Kathleen Connelly, executive vice president of client services at Ascensus, said in a phone interview. "All three are important, as well as paying down the credit cards and making sure you have a nest egg should anything happen. There's a new responsibility. We're pushing hard the concept of putting away 10 percent for retirement."
Don't Miss: 5 Reasonable Economic Predictions for 2014
Follow Eric on Twitter @Mr_Eric_WSCS