Monsanto Earnings Cheat Sheet: Rising Revenue Helps Margins Expand, Profit Rises
S&P 500 (NYSE:SPY) component Monsanto Company (NYSE:MON) reported net income above Wall Street's expectations for the third quarter. Monsanto Co. provides agricultural products, including seeds, biotechnology trait products, and herbicides, that provide farmers with solutions that improve productivity and reduce costs.
Don't Miss: Wall St. Cheat Sheet's newest Feature Trades of the Month!
Monsanto Company Earnings Cheat Sheet for the Third Quarter
Results: Net income for the agricultural chemicals company rose to $680 million ($1.26/share) vs. $384 million (70 cents/share) in the same quarter a year earlier. A rise of 77.1% from the year earlier quarter.
Revenue: Rose 21.2% to $3.59 billion YoY.
Actual vs. Wall St. Expectations: MON beat the mean analyst estimate of $1.10/share. Estimates ranged from 97 cents per share to $1.20 per share. It beat the average revenue estimate of $3.38 billion.
Quoting Management: "The third quarter is always an important quarter for Monsanto, as it effectively concludes our fiscal year from an operational standpoint," said Hugh Grant, Monsanto's president and chief executive officer.  "Our U.S. selling season is almost complete, and farmers in Latin America are now harvesting their crops.  That gives us real data to validate the momentum we've felt.  We made significant changes to our business this year, and those changes resonated with our customers.  We earned their business and achieved what we set out to achieve: unit volume growth in our core crops, a successful implementation of our agricultural productivity strategy and sustained cost-discipline across our operations.  That positions us well for the coming years and the mid-teens earnings growth opportunity we see for this company."
Key Stats:
Revenue has risen the past four quarters. Revenue increased 6.1% to $4.13 billion in the second quarter. The figure rose 7.8% in the first quarter from the year earlier and climbed 3.9% in the fourth quarter of the last fiscal year from the year-ago quarter.
The company has now topped analyst estimates for the last three quarters. It beat the mark by 3 cents in the second quarter and by one cent in the first quarter.
Gross margins grew 7.6 percentage points to 54.5%. The growth seemed to be driven by increased revenue, as the figure rose 21.2% from the year earlier quarter while costs rose 3.8%.
Competitors to Watch: SSyngenta AG (NYSE:SYT), The Scotts Miracle-Gro Co. (NYSE:SMG), The Dow Chemical Company (NYSE:DOW), FMC Corporation (NYSE:FMC), The Mosaic Company (NYSE:MOS), American Vanguard Corp. (NYSE:AVD), Potash (NYSE:POT), CF Industries Hldgs., Inc. (NYSE:CF) and Origin Agritech Ltd. (NASDAQ:SEED).
Stock Performance: Shares of MON are up over 4% today.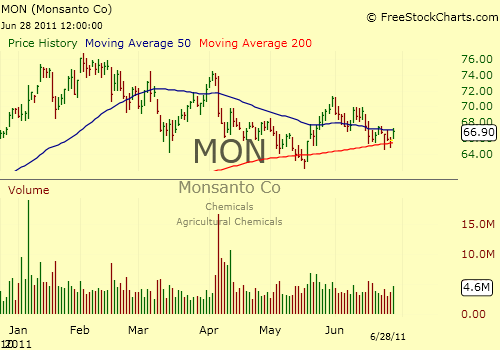 Don't Miss Wall St. Cheat Sheet's newest Feature Trades of the Month!
(Source: Xignite Financials)