Monsanto to Address EPA Concerns and 4 Stocks Rising to 52-Week Highs
Life Technologies (NASDAQ:LIFE): Closing price $ 60.79
Shares moved up sharply following a report late Thursday in The Financial Post that the firm wants to sell itself by the middle of February, at between $65 and $75 per share, say unnamed sources. Life Technologies has hired two firms, Deutsche Bank (NYSE:DB) and Moelis & Co., to facilitate a sale to either a private equity firm or a larger company, according to documents. Shares closed up 5.82 on the day at $60.79, having been traded in a 52-week range of $39.73 to $55.11.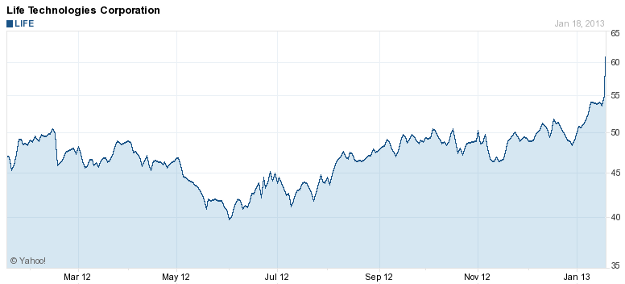 Monsanto Company (NYSE:MON): Closing price $102.47
An Environmental Protection Agency memo dated January 17th states that the agency will work with Monsanto to help address worries linked to rootworm resistance to certain strains of corn. The company will collaborate with the EPA to revise the regulatory definition "confirmed resistance" by March. The agency understands that Monsanto will transition single mode of action products from the market over time, and will also report sales volumes yearly to the EPA and to "aggressively increase" the availability of pyramided products containing multiple corn rootworm toxins to replace single-trait Cry3Bb1. Shares closed up 1.14 percent on the day at $102.47, and have traded in a 52-week range of $69.70 to $102.29.
Start 2013 better than ever by saving time and making money with your Limited Time Offer for our highly-acclaimed Stock Picker Newsletter. Click here for our fresh Feature Stock Pick now!
Gilead Sciences (NASDAQ:GILD): Closing price $2.92
YM BioSciences (AMEX:YMI) will be purchased by a wholly owned subsidiary of Gilead Sciences at the price of $2.95 per share in cash, with the potential regulatory obstacles cleared. Shares closed unchanged on the day at $2.92, having been traded in a 52-week range of $1.45 to $2.92.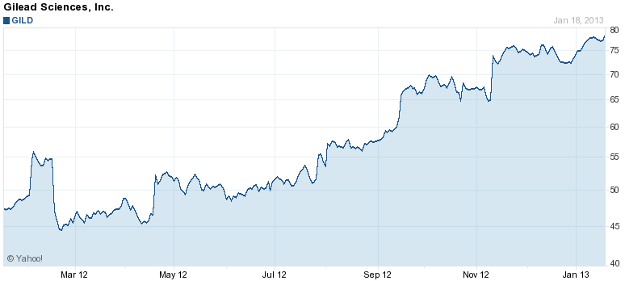 Parker-Hannifin Corp (NYSE:PH): Closing price $93.70
The company's fiscal year 2013 guidance includes an expected increase in domestic qualified pension expense of 35 cents per share, because of accounting regulations which require the use of a lower discount rate that is calculated on current market conditions. Shares closed up 2.56 percent on the day at $93.70, and have have traded in a 52-week range of $70.42 to $91.93.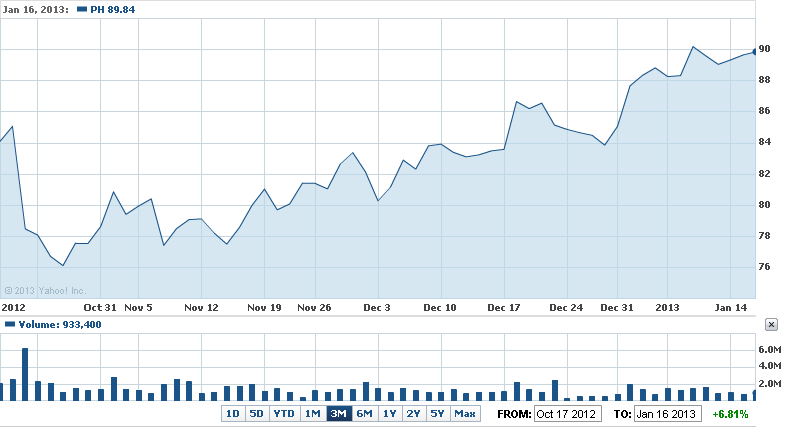 Triumph Group (NYSE:TGI): Closing price $69.93
Triumph will acquire Goodrich Corporation's (NYSE:GR) pump and engine control systems division of from United Technologies Corporation (NYSE:UTX). The transaction should close in the current fiscal quarter. The purchased business, which will operate as Triumph Engine Control Systems and be included in the Aerospace Systems Group, should add around $195 million in annual revenue and to be immediately accretive to earnings. Shares closed up 3.78 percent on the day at $69.93, having been traded in a 52-week range of $53.46 to $69.85.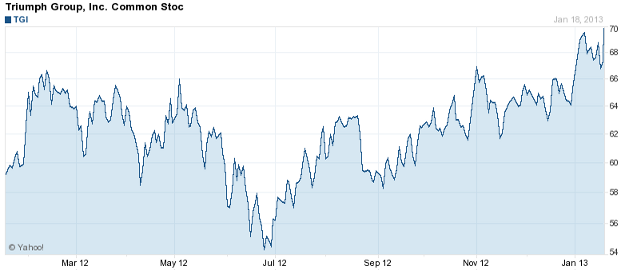 Don't Miss: Are the Internet Power Players Changing?