More Barbs For J.C. Penney and 2 Other Heavily Traded Stocks
J.C. Penney & Co. (NYSE:JCP): Current price $15.50
The hedge fund manager William Ackman is stepping up the pressure on the man he himself chose to turn around iconic retailer JC Penney, according to Reuters, remarking on Friday of Ron Johnson that the "criticism is deserved." The one-time Apple executive has been charged with remaking the somewhat conservative retail chain and has come under attack while the stock price plunged by 27.6 percent in the first quarter. Ackman often said that Johnson was a doing a great job, but he tempered his normally bullish comments on Friday at an investment conference sponsored by Thomson Reuters in Boston.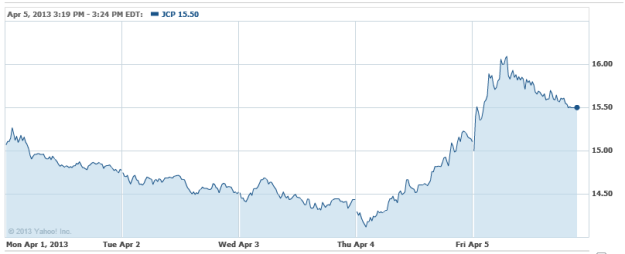 Microsoft Corporation (NASDAQ:MSFT): Current price $28.55
In a note to investors on Thursday, analyst Brian White said that he thinks Microsoft intends to bring to market a set of Internet-connected glasses in 2014. If that happens, it would place Microsoft in a position to rival Google (NASDAQ:GOOG) Glass, a project with a very public presence, although it is still in development. White predicts that Google Glass will initiate what he views as a "major push" in wearable electronics by the largest tech firms. Among those expected to participate is Apple (NASDAQ:AAPL), which is thought to be developing a so-called "iWatch" accessory.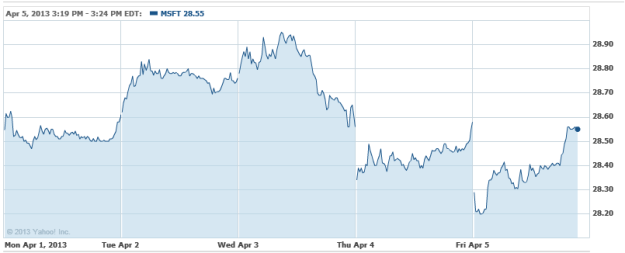 Best Buy Co. (NYSE:BBY): Current price $24.88
Samsung's collaboration with Best Buy to create stores-within-a-store aims to show that it can join the multiple devices and screens just as does Apple. Meanwhile, observers wonder what Samsung's rival and neighbor, Apple, inside Best Buy will do. A statement said that the Samsung outlets will showcase tablets, smartphones, laptops and connected cameras, along with offering account set up and support. However, Best Buy will also have Apple shops next to Samsung, turning the whole thing into a showdown within Best Buy. Oppenheimer analyst Brian Nagel opined that  there exists a risk that Apple could find new partners, commenting that "Best Buy and Apple have historically had a very healthy relationship with a number of big box stores having a dedicated Apple section. With today's announcement, there are risks that Apple may choose to more aggressively partner with other retailers such as Staples (NASDAQ:SPLS), Target (NYSE:TGT), and Walmart (NYSE:WMT) going forward."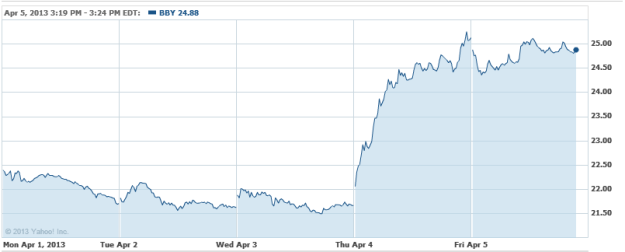 Investing Insights: Is McDonald's Still a Safe Investment?