More Battery Problems for Boeing, Best Buy's Resounding Upgrade, and 3 More Hot Stocks
Boeing Co. (NYSE:BA): A Boeing 787 Dreamliner owned by Japan Airlines experienced further battery troubles on a flight from Helsinki to Tokyo, the same kind that caught fire on the tarmac in Boston, though the latest issues didn't involve fire or overheating, Reuters reports. A cockpit indicator signaled trouble with the battery that is connected to the plane's auxiliary power unit during the flight, but "the voltage and electrical current were within normal range and there was no effect on the remainder of the flight," JAL said.
Best Buy Co. (NYSE:BBY): Analysts at UBS are feeling positive on Best Buy's chances and have raised the firm's rating to Buy from Neutral with a price target of $49, up from $35. The firm believes that  earnings will move higher due to increased cost savings, greater vendor connectivity, Google and Amazon kiosks in stores, and a favorable product environment.
Delta Airlines (NYSE:DAL): Delta Airlines has announced the details of its new flight schedule for next summer involving routes and connections in conjunction with Virgin Atlantic, which is aimed at "putting the customer at the forefront of their partnership" by combining their slots at London Heathrow to offer maximum customer convenience, Route News says. The alliance will now allow for 33 daily nonstop flights across the Atlantic Ocean.
Office Depot Inc. (NYSE:ODP): Office Depot is now tackling a fairly serious and tricky question regarding where to place its corporate headquarters after a bill to reduce taxes for the company in Illinois didn't make it to a vote in the state Senate. The higher rates for the company could see the office supply chain setting up shop in its new merger partner's home of Florida.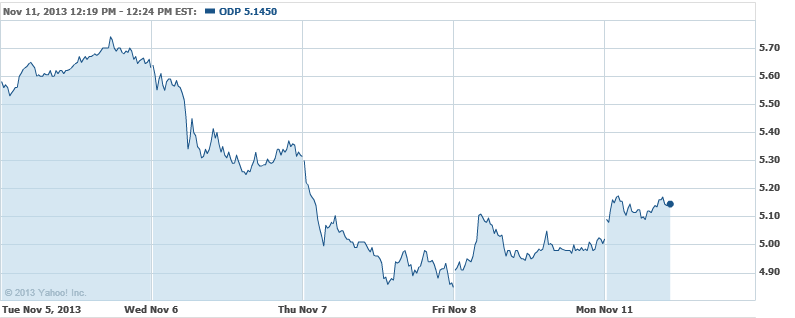 Transocean Ltd. (NYSE:RIG): Transocean has reached out to activist investor Carl Icahn in efforts to resolve a months-long proxy battle over the issuance of a dividend and reducing the number of board seats. Under the terms, Transocean would pay a $3 dividend and cut the maximum number of directors to 11 from 14; Icahn had initially pushed for a $4 per share dividend.

Don't Miss: Boeing to Employees: Sign Labor Contract or Risk Losing Work.