More Norwegian Problems for Boeing, KKR Snaps Up Panasonic Health, and 3 More Hot Stocks
Boeing Co. (NYSE:BA): Norwegian Air is having further troubles with its two 787 Dreamliner aircraft, as the hydraulic pump in one of the planes failed for yet another infliction to the Scandinavian carrier. Norwegian has had so many issues with the two planes that it demanded Boeing officials sit down for a meeting; Boeing has since promised to create spare parts centers at all of the operator's Dreamliner destinations and send a team to Oslo, Norway, to monitor the aircraft's performance.

KKR (NYSE:KKR): KKR has agreed to buy 80 percent of Panasonic's health care unit for 165 billion yen ($1.67 billion), with an announcement expected on Friday. The buy would be KKR's largest purchase in Japan. Panasonic's health unit focuses on In Vitro Diagnostics, Medicom (IT equipment), and Biomedical.

Under Armour Inc. (NYSE:UA): Shares of Under Armour are trading up after fellow sport apparel giant Nike (NYSE:NKE) reported a favorable quarter with strong future orders growth. Despite "trying to march to its own drum beat," Seeking Alpha notes that share movement for Under Armour still takes cues from the leading apparel giant.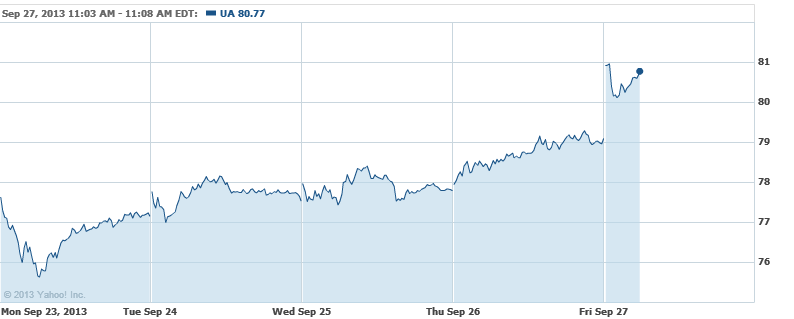 McDonald's Corp. (NYSE:MCD): Perhaps taking notes from Burger King's recent "Satisfries" initiative, McDonald's is planning to launch more healthy alternatives to french fries in its Happy Meals, as well as committing to only marketing non-soda beverages for kids' meals in advertising.
J.C. Penney (NYSE:JCP): J.C. Penney shares are plummeting yet again after the company pointed to up to a 96.6 million share offering that could end up getting unloaded, priced at $9.65 apiece. Penney expects to end the year holding about $1.3 billion in cash, according to its 8-K filing.

Don't Miss: Box Office Preview: 8 New Films With Something for Everyone