More Proof the Fed Isn't Screwing Up the Economy
If you're looking for inflationary pressure, you won't find it in April's preliminary import and export data. Despite the Federal Reserve's best efforts to rev up the American economy, there doesn't seem to be any danger of overheating as inflationary pressure remains weak.
The U.S. Bureau of Labor Statistics reported on Tuesday that import prices declined 0.5 percent on the month, which follows a 0.2 percent decline in March, although is in line with expectations. Export prices fell 0.7 percent on the month, which follows a 0.5 percent decline in March and is much steeper than expectations for a decline of 0.1 percent.
On the year, import prices are down 2.6 percent and export prices are down 0.9 percent. The real kicker here is that prices excluding fuel have come down for several months in a row, suggesting that there might actually be deflationary pressures in the pipeline. Regardless, the April data — combined with recent PPI and CPI data — show that Federal Reserve policymakers have little to fear by way of inflation.
Investors will get a chance to seek out those pressures in Wednesday's Producer Price Index report and in Thursday's Consumer Price Index report.
The headline PPI has increased steadily since November, while the core measure, which excludes food and energy, began declining just after the start of the year. In March, the headline PPI declined 0.6 percent, while the core rate increased just 0.2 percent. (Note: April figures are consensus economist estimates.)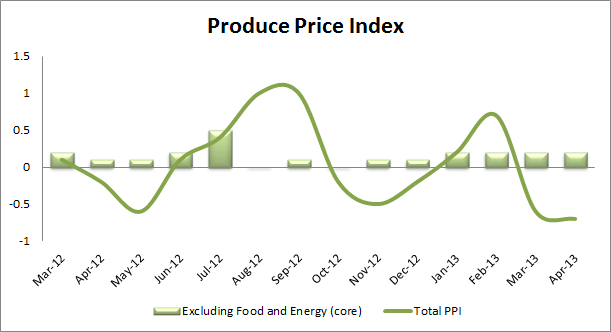 The headline March Consumer Price Index declined 0.2 percent on the month, while the core index climbed 0.1 percent. For April, economists are expecting the headline rate to decline 0.3 percent, and the core rate to increase 0.2 percent.
Don't Miss: The Embarrassing IRS Revelation Is Getting Uglier.