More Taper Questions? Here's the Only Thing Fed Policymakers Can Tell Us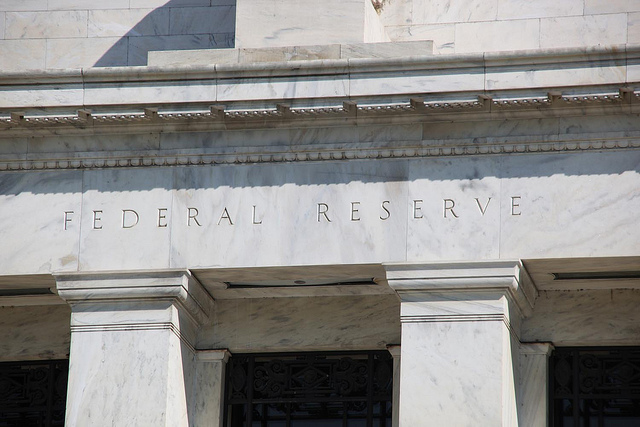 On June 19, the Federal Open Market Committee released a battery of economic projections for the U.S. The forecasts, gathered from Federal Reserve Board members and Federal Reserve Bank presidents, called for overall economic growth as measured by change in real gross domestic product of between 2.3 and 2.6 percent in 2013.
Fueled by this modest growth, unemployment this year is expected to fall within an equally modest range of 7.2 to 7.3 percent. Headline inflation as measured by personal consumption expenditures is expected to remain relatively soft, between 0.8 and 1.2 percent, while core inflation is forecast to trend slightly higher, between 1.2 and 1.3 percent.
Looking ahead to 2014, the central tendency of Fed forecasts puts U.S. economic growth between 3 and 3.5 percent, unemployment between 6.5 and 6.8 percent, and headline inflation between 1.4 and 2 percent. The trend is clear, if somewhat underwhelming: Fed policymakers expect the U.S. economy to continue improving slowly this year and next, and the trend continues further in 2015, with unemployment falling to between 5.8 and 6.2 percent.
Consensus projections from the Fed aren't necessarily any more accurate than any given policymaker. In fact, a ranking system compiled by The Wall Street Journal shows that economic forecasts made during congressional testimony, which often reflect a consensus estimate, scored below average for accuracy.
But even with that in mind, it's still clear where Fed policymakers think we're headed. Unemployment is trending lower, inflation is trending higher, and the economy looks like it is one to two years away from the thresholds set at the beginning of the year.
This means it's time for the Fed to think seriously about tapering asset purchases. Currently, the Fed is purchasing $40 billion worth of agency mortgage-backed securities and $45 billion worth of longer-term Securities every month in an effort to keep longer-term interest rates low. This program of quantitative easing is designed to stimulate the economy by lowering the cost of borrowing, which can spur business activity.
The tapering of asset purchases is significant for market participants because four years after the financial crisis, the markets have effectively become addicted to easy money. As Dallas Fed President Richard Fisher said in a speech he gave Monday:
A corollary of reining in this massive monetary stimulus in a timely manner is that financial markets may have become too accustomed to what some have depicted as a Fed "put." Some have come to expect the Fed to keep the markets levitating indefinitely. This distorts the pricing of financial assets, encourages lazy analysis and can set the groundwork for serious misallocation of capital…The challenge now facing the FOMC is that of deciding when to begin dialing back (or as the financial press is fond of reporting: "tapering") the amount of additional security purchases.
The discretionary dimension to the taper timeline is what has Mr. Market wringing his hands and gritting his teeth.
The Fed's policy of forward guidance has been a mixed blessing for the markets. While it does remove some opacity surrounding Fed policy decisions, it doesn't necessarily make the image decipherable. Or to put it another way, it helps the markets get an idea of what kind of answer to expect for the question "When will tapering begin?" but it doesn't actually provide the answer.
The Fed has not been able to tell the markets when policy will change because it does not know when policy will change. Chairman Ben Bernanke has made it clear that policy will remain responsive to changing economic conditions. This means that unless there is some lapse in consensus Fed thinking, the Fed will decide to change policy when economic data — the same data that everybody else is looking at — persuade them that the time is right.
There is a discretionary judgement to be made here, but the date of a policy shift is being honed in on, and markets have a pretty good idea of where the bead is. Headline unemployment fell 0.2 percentage points last month to 7.4 percent. Inflationary pressures are modest, but the pipeline isn't totally empty.
This week, a few members of the Federal Reserve System offered their two cents. Among them, Fisher suggested that "should the economy continue to improve along the lines then envisioned by Committee, the market could anticipate our slowing the rate of purchases later this year, with an eye toward curtailing new purchases as the unemployment rate broaches 7 percent and prospects for solid job gains remain promising."
This sentiment is consistent with the most recent Monetary Policy Review and comments made by Bernanke during his last testimony before Congress. One important caveat is that the proposed timeline depends on continued economic improve at a modest minimal rate.
Speaking to press on Tuesday, Chicago Fed President Charles Evans — a strong supporter of quantitative easing — suggested that by the time the program winds down the Fed will have purchased $1.2 trillion in bonds. The Fed balance sheet is currently $3.5 trillion.
With this in mind, Evans suggested that the Fed may make a policy decision at its upcoming meeting on September 18. Such a move would be consistent with Fed commentary so far, and is an increasingly popular pick among economists surveyed by Bloomberg.
Before then, we can expect one more employment situation report and another round of inflation indicators. But until then, the Fed will say the same thing it has said for the past few months: policy depends on incoming data.
Don't Miss: If You Live With Your Parents, You Might Be a Millennial.