Morgan Stanley Announces Bonuses and 2 Hot Stocks Sparking Chatter
Credit Suisse Group (NYSE:CS): Current Price $28.08
According to Bloomberg, Ali Baba Group Holdings Ltd has appointed Credit Suisse Group (NYSE:CS) and Goldman Sachs (NYSE:GS) to arrange its much awaited, much talked about initial public offering. The report cites knowledgeable sources and says the IPO, to be floated in Hong Kong, could mobilize as much as $3 billion-$4 billion. The IPO could provide a boost to the valuation of Yahoo's (NASDAQ:YHOO) 23% stake in Ali Baba, China's largest e-commerce company.

Should you buy or sell Apple's stock ahead of earnings in a few days? Our 20-page proprietary analysis will help you save time and make money. Click here to get your SPECIAL REPORT now.
Morgan Stanley (NYSE:MS): Current Price $20.64
Morgan Stanley (NYSE:MS) will pay 2012 bonuses to its employees in four equal instalments spread between the first one in May and the last in January 2016. The deferred pay method carries a risk for employees who either quit or are laid off before the payments are completed. It is also likely to curb traders and investment managers from indulging in risky trades that could result in clawbacks of the deferred compensation. The decision is not likely to be welcomed by employees who may need to temper lifestyles, or defer purchases of houses and cars.

Goldman Sachs (NYSE:GS): Current Price $139.27
Goldman Sachs (NYSE:GS) reports fourth quarter EPS of $5.6 and revenue of $9.24 billion which beat by $2.17 and $1.76 billion respectively. Revenues in the investment banking unit rise of 64% year-on-year while FICC revenue is up 50% annually. ROE for the fourth quarter was 16.5% on an annualised basis. As of December 31, its Tier 1 capital ratio under Basel 1 was 16.7%.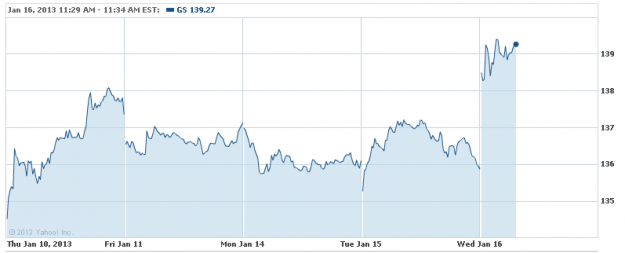 Don't Miss: What's Worse Than Tax Hikes and an Austerity Crisis?