Morgan Stanley Board Slashes CEO Remuneration and 4 Morning Hot Stocks Trading Today
Vornado Realty Trust (NYSE:VNO): Current Price $85.12
Vornado Realty Trust (NYSE:VNO) announced the completion of its sale of the Green Acres Mall on Long Island New York for $500 million, resulting in the receipt of net proceeds of $185 billion after paying down existing loans and other charges. The transaction would result in a financial statement gain of about $205 million and a deferred tax gain of about $304 million.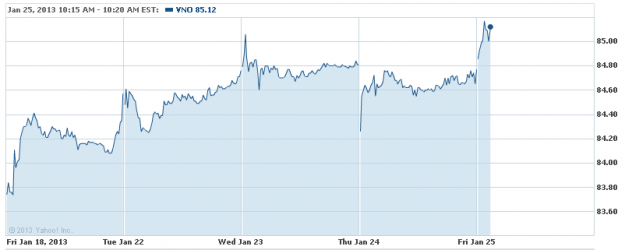 Dell Inc (NASDAQ:DELL): Current Price $13.14
According to Reuters, senior executives at large private equity firms are of the view that the potential bid for taking Dell Inc (NASDAQ:DELL) private by a consortium comprising founder Michael Dell, Microsoft (NASDAQ:MSFT), the Canada Pension Plan Investment Board and Silver Lake is unlikely to be bettered by other bidders. A go-shop period allows the company to look for superior offers, but "when management is rolling over their stake and they have picked a partner, it is hard to top the agreed offer," said one PE executive.

Are these stocks a buy or sell? Let us help you decide. Check out our Stock Picker Newsletter now.
Sony's (NYSE:SNE): Current Price $14.34
INCJ, a Japanese state-backed fund, has offered to invest in any firm that may be formed through a merger between Sony's (NYSE:SNE) lithium-ion battery business and a proposed joint venture between Nissan Motor and NEC Corp that would buy out that unit. Sony is looking for buyers for the lithium battery business as it seeks to divest non-core businesses and focus on consumer electronics such as cameras, gaming and mobile devices. INCJ is concerned that Sony's technology may fall into the hands of rivals from China or Taiwan.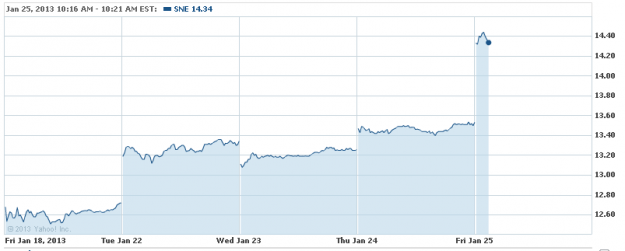 Las Vegas Sands Corp (NYSE:LVS): Current Price $52.78
Las Vegas Sands Corp (NYSE:LVS), facing increasing regulatory probes regarding its procedures to prevent money laundering, has taken several steps to overhaul its compliance procedures. The company will no longer process international money transfers for highrolling customers, nor allow gamblers to use aliases for transferring funds from their accounts. The casino operator is also retraining staff on US antibribery laws and has appointed ex-FBI agents to improve background checks on VIP customers and junket operators.

Morgan Stanley (NYSE:MS): Current Price $22.74
The board of Morgan Stanley (NYSE:MS) has decided to cut the remuneration payable to Chief Executive James P Gorman after the firm turned in a mixed financial performance during the year. For 2012, he is likely to draw about $6 million comprising stock options of $2.6 million, $2.6 million in deferred cash and $0.8 million base salary. This is a fall from the $10.5 million remuneration he was awarded in 2011, which itself was down 25% from the year before.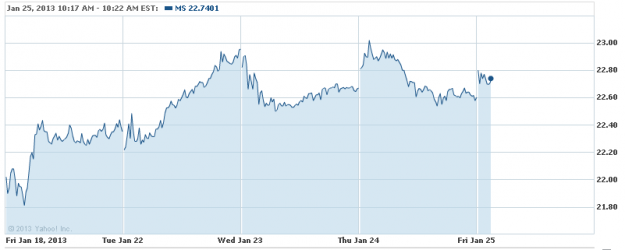 Don't Miss: Your Cheat Sheet to Apple Earnings.