Morgan Stanley Earnings: Bond Traders are a Drag
S&P 500 (NYSE:SPY) component Morgan Stanley (NYSE:MS) posted a decrease in profit as revenue declined. Morgan Stanley provides its financial products and services to a group of clients and customers, including corporations, governments, financial institutions and individuals.
Don't Miss: Wall St. Cheat Sheet's newest Feature Trades of the Month!
Morgan Stanley Earnings Cheat Sheet for the First Quarter
Results: Net income for the investment brokerage fell to $968 million (50 cents/share) vs. $1.78 billion (99 cents/share) a year earlier. A decline of 45.6% from the year earlier quarter.
Revenue: Fell 26.9% to $7.63 billion YoY.
Actual vs. Wall St. Expectations: MS beat the mean analyst estimate of 34 cents/share. Estimates ranged from 2 cents per share to 56 cents per share.
Quoting Management: James P. Gorman, President and Chief Executive Officer, said, "We continued to strengthen our client franchise and delivered solid results across many of our businesses. Our premier investment banking franchise remains a clear industry leader – maintaining our #1 ranking in global M and A in a robust deal market. We also made gains in key areas of focus – with our best results in equities since the financial crisis; significant improvement in fixed income and commodities from last quarter; and positive flows across wealth management and asset management. While the loss at our joint venture with MUFG is disappointing, we remain strongly committed to the Japanese market and our strategic partners at MUFG. Further, this loss does not impact the progress we are making in pursuing our own strategic priorities. I am confident that Morgan Stanley is well-positioned to seize the opportunities presented by today's market environment and deliver long-term value to our clients, shareholders and employees."
Competitors to Watch: The Goldman Sachs Group, Inc. (NYSE:GS), Barclays PLC (NYSE:BCS), State Street Corp. (NYSE:STT), Citigroup Inc. (NYSE:C), Bank of America (NYSE:BAC), Northern Trust Corporation (NASDAQ:NTRS), JPMorgan Chase (NYSE:JPM), Financials (NYSE:XLF) and Wells Fargo & Company (NYSE:WFC).
Today's Performance: Shares of MS are trading at $26.48 as of April 21, 2011 at 2:39PM ET, up 1.69% from the previous closing price of $26.04.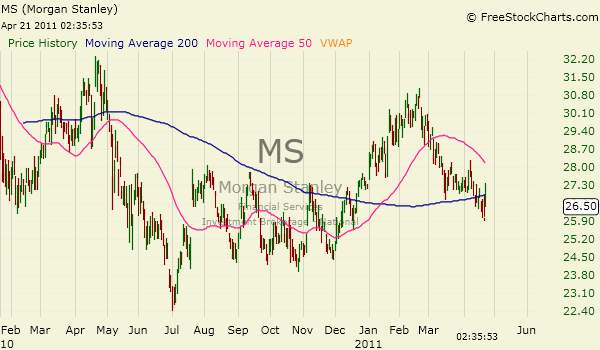 Don't Miss Wall St. Cheat Sheet's newest Feature Trades of the Month!